As we bid farewell to the decade at the Sports Commission, it's difficult to imagine a better closing chapter than 2019.
Fresh off the momentum of a milestone year in 2018, this year showed that the Columbus certainly shouldn't, and didn't, rest on its laurels.
"We continue to have a very robust event schedule," said Linda Logan, Sports Commission executive director. "2019 brought us to a new level as a sports destination, all due to continued community support."  
This year Columbus was in the rotation of some loyal clients, evidence that the hospitality community repeatedly proves that our destination is a special host.
In March, Columbus welcomed a couple of our favorite NCAA basketball events back to the city. The NCAA Division I Men's First and Second Rounds gave Columbus the opportunity for a fifth time to appear on the March Madness national stage. The excitement from that whirlwind basketball weekend led directly into the NCAA Division II Women's Basketball Elite Eight, an event that the community cherished in 2017 and can't wait to welcome again in 2021.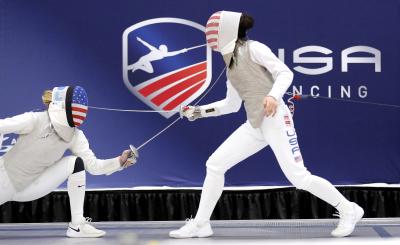 Summertime featured the return of many of a couple national governing bodies. Columbus hosted USA Volleyball for the Open National Championships and Annual Meeting, an event that featured 485 teams, including the USA Volleyball Paralympic team. Our city also collaborated to embrace the largest fencing tournament in the world at the USA Fencing National Championships and July Challenge.
That slate was rounded out with a knockout USA Boxing Eastern Elite Qualifiers and Regional Open, U.S. Soccer Women's National Team friendly and even support for the ASAE Annual Meeting & Exposition that swept through the city in August. Safe to say, all eyes were on Columbus this year!
As the community impressed yet again with some classic clients, the Sports Commission also unveiled a few growing initiatives that wouldn't have been possible without the entire community's support.
The Sports Commission launched COMMITTED this year, an event series that aligns with its guiding pillar to empower women and girls in sports.
"It's been a fun way for us to keep the engagement of women leadership in Columbus, and that continues to be one of our hallmarks," Logan said. "It's really in our DNA as an organization."
With a few phenomenal COMMITTED events already in the books, this event is sure to flourish in the new year.
The Community Cup, presented by The Columbus Foundation, soared to new heights in its second year. With five new events and nearly double the registrations, year two brought plenty of friendly competition to the field.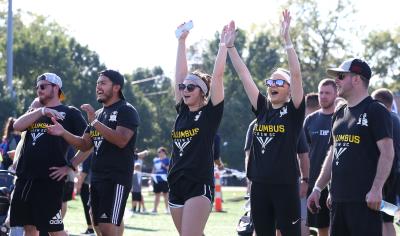 "Seeing the friendly competition and dedication of our returning teams really showed what sports can do for a team or individual or to a community," Logan said. "I just anticipate that it's going to get bigger and better!" Join us for year three on Aug. 1, 2020!
As we look ahead to a new decade of sports in Columbus, it only goes up from here.
The Sports Commission team is hard at work compiling NCAA Bids and exploring new additions to its ever-growing event resume, hopeful to bring more excitement and championship moments to the community.
 "The more events we host, the more the sophistication of our hospitality community shows and grows," Logan said. "There's a lot of pride in the fact that these groups want to come to Columbus, and it excites me to think of where we've grown as a destination."