Columbus Sports Stadiums
Columbus has the facilities for just about every sport you can imagine. Tipoffs, first pitches, en-gardes, kickoffs, puck drops, first serves, you name it. Two locations serve as the heart and soul of Columbus sports:
Arena District - three amazing stadiums on one stretch of Nationwide Blvd - or as we call it, Sports Street. Plus, the Convention Center is right around the corner.
University District - Ohio State's Campus has the third largest football stadium in the country, and many other facilities that house 36 varsity sports from baseball to volleyball.
Explore this Google Map to learn more.
Here are a few of the most popular sports facilities in Columbus. Scroll down for the full, sortable list.
Nationwide Arena
This multipurpose arena is the centerpiece of downtown. It's the home of the Columbus Blue Jackets, but also holds concerts and additional events year-round. Recent events hosted here include the 2021 NCAA DI Women's Volleyball Championship. In 2024, Nationwide Arena will host the U.S. Figure Skating Championships.
Lower.com Field
A world-class stadium for a world-class city, the Crew's soccer stadium has a 20,000-person capacity with amenities like field-level suites and a beer garden. Come cheer on the Black & Gold with us! The U.S. Soccer Men's and Women's National Teams have played here a combined three times in the stadium's first year. Lower.com Field hosts its first MLS All-Star Game in July 2024.
Huntington Park
Located in the Arena District in downtown Columbus, Ohio, this beautiful park with amazing skyline views is home to the Columbus Clippers baseball team (the Triple-A affiliate of the Cleveland Guardians).
Schottenstein Center
Where The Ohio State University's men's basketball, women's basketball, and men's ice hockey teams come to play. The arena also hosts a variety of concerts, family shows and touring productions. And did we mention it has the largest seating capacity in the Big Ten Conference, with 19,049 seats? Kind of a big deal.
Greater Columbus Convention Center
An award-winning convention center (and one of the busiest on the continent), the venue hosts a variety of volleyball, fencing, and wrestling tournaments, as well as special events, competitions, and conferences. Its 1.8 million square feet and connected to five hotels by enclosed sky bridges.
Lou Berliner Sports Park
The nation's largest ball diamond complex with 31 permanently fenced, turf infield baseball and softball diamonds. From March through November, Berliner is filled with thousands of athletes and spectators participating in local, state, and national events.
Connect with our expert.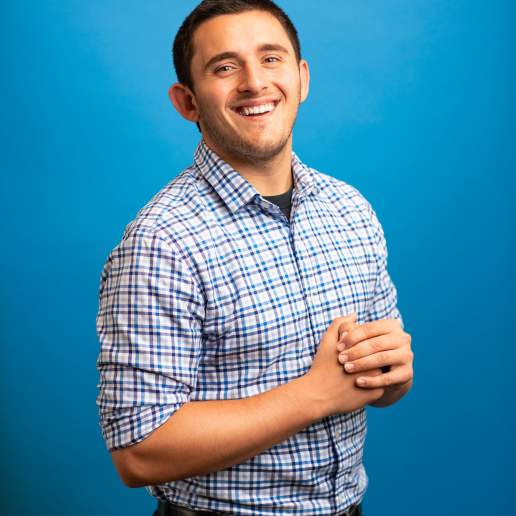 Mason Zimmer

Business Development Manager