The teamwork was inspiring. The grit was tangible. The competition was heated.
And after all the scores were tallied, The Cup and accompanying bragging rights were awarded to four Central Ohio businesses that proved they were up for the challenge.
The 2019 Community Cup, presented by The Columbus Foundation, brought 37 teams and over 900 participants to Otterbein University on Sept. 28. Whether they showed up for a team-building opportunity, a health and wellness initiative or just because they are the ultimate competitors, participants proved that Columbus is a city bursting with community support.
In its second year, The Community Cup is a one-day challenge that rallies Central Ohio organizations to compete in contests for all skill levels. After a successful inaugural event in 2018, the event certainly reached new heights in year two. Five new field day activities were added to total 13 events, new sponsors were welcomed into The Community Cup family and David Babner, race director for the Cap City Half Marathon, joined as event chairman.
All in all, the day was full of camaraderie.
No matter the skill level of employees, it was evident that teams were motivated to succeed. Between those who arrived early to get suited up for the M3S Sports 5K Race, participants who put their arms to the test in the G&J Pepsi Football Toss and entire teams that put their bodies on the line in the JPMorgan Chase & Co. Tug of War, the entire day was full of passionate employees supporting their colleagues on the field.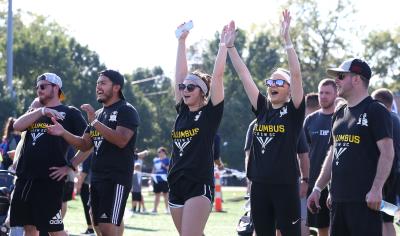 In the end, only one team in each of the four divisions came out on top, and returning teams seemed to be getting the hang of things. Nationwide and Village of Obetz became back-to-back Cup winners in Division I and Division IV, respectively. Returns for the Columbus Blue Jackets and Lake Shore Cryotronics paid off, too. The Blue Jackets earned the Division II title and Lake Shore Cryotronics took home the bragging rights for Division III.
With another year under our belts and such great support from our growing roster of teams and sponsors, we know this event will continue to be a staple for the Columbus corporate community. If you're interested in participating in The Community Cup in 2020, visit columbuscommunitycup.com. For a look at the 2019 Community Cup by the numbers, download our infographic here.