They may have left their business attire at home for the day, but there was no shortage of team strategy at the Community Cup 2018 Sports Challenge, presented by The Columbus Foundation. 
On Sept. 15, Otterbein University's Memorial Stadium flooded with the best and boldest from the Columbus corporate community. Teams comprised of employees from all industries found their way to the 5K Race start line bright and early, ready to take on eight "field day" events in an effort to claim the Cup.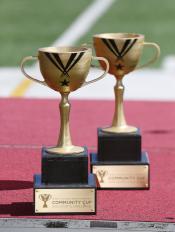 Twenty-two organizations registered for the one-day challenge, totaling over 500 participants who competed in eight events. Whether the participants walked the track, hurled the football, dodged on the court or came out to cheer on their coworkers, all participants played an important role in the success of the inaugural event.
"Through things like this, you not only build camaraderie in your own companies and your own organizations, but you really help build a better community," said Doug Kridler, president and CEO of The Columbus Foundation, at the Awards Ceremony.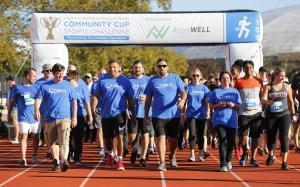 For most, the mission was clear – to have a fun team-building outing that supported fitness and wellness initiatives – but the effort surpassed all expectations. Teams huddled against the nets at dodgeball courts to cheer on their battling colleagues. They celebrated wildly when they pulled their opponents over the Tug of War line. Taking employees out of the office and on to the field proved to be an amazing way to promote teamwork.
"This is really one of those times that participation is its own reward," Kridler said.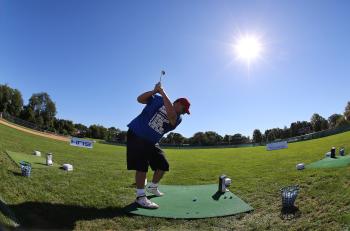 As the competition brackets narrowed down to their winners and the points were tallied behind the scenes, three champions emerged. Nationwide took home the Division I title, Plante Moran claimed Division III and Village of Obetz earned the Division IV trophy. Even for the teams that fell short of first place, the first Community Cup showed that Columbus is a top place to live, work and play.
With the way that the corporate community gathered in year one, the Sports Commission knows that the Community Cup will come back even better in 2019! If you're interested in more information or participating in the Community Cup 2019 Sports Challenge, please click here.