Get ready to don your red, white and blue, Columbus.
The U.S. Soccer Women's National Team will play an international friendly vs. Sweden on Nov. 7 at MAPFRE Stadium. Whether you're a lifelong fan of the sport, still hyped up on the USWNT excitement from this summer or just looking to take advantage of yet another championship sporting event hosted in Columbus, you're not going to want to miss this game.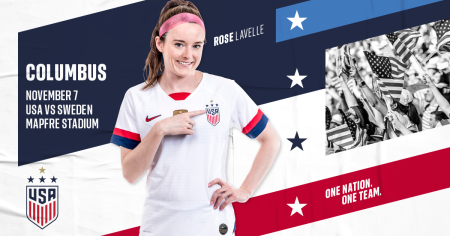 Here's a few reasons to meet us at the pitch for the big USWNT game:
They're the Reigning Women's World Cup Champions
This one's obvious! In July, the nation watched proudly as the United States repeated as FIFA Women's World Cup Champions and became the first team in history to win four World Cup titles. There was also some locker room dancing, a championship ticker tape parade and plenty of female empowerment along the way. The win brought a wave of nostalgia to the soccer world, as it marked 20 years since the team's iconic 1999 FIFA Women's World Cup victory. They outscored opponents 26-3 throughout the tournament, including a 2-0 shutout of Sweden in the group stage. In short, they're really good.
The USWNT Has a History of Success in MAPFRE Stadium
The Nov. 7 friendly will be played in favorable territory for the USWNT. MAPFRE Stadium has played host to eight U.S. Women's National Team matches all-time, most recently the SheBelieves Cup in 2018 and a 9-0 rout of Thailand in 2016. The Stars & Stripes hold a record of 6-1-1 at the venue, outscoring opponents 30-6 in that stretch. In 2003, the venue hosted group stage matches of the FIFA Women's World Cup, including a game between the U.S. and North Korea in which the USWNT came away with a 3-0 win. If there's one thing we know, it's that MAPFRE Stadium is a pretty good home site for this team.
Columbus is Bursting with Soccer Excitement Right Now
If you've been paying attention to sports in Columbus the past year, you may have felt a certain camaraderie building within our soccer scene. It's been over a year since the city rallied behind Columbus Crew SC and saved the team from leaving the city, but the excitement for the sport has yet to diminish. Under new leadership, the local Major League Soccer club has broken ground on its new downtown stadium, joining Columbus' other professional teams in the Arena District. Columbus is a community that supports the sport of soccer, and we certainly know how to show it!
The Nov. 7 friendly kicks off at 7:30 p.m. and tickets are available through ussoccer.com. For more information on the game, visit the Sports Commission's event calendar listing or the U.S. Soccer website.