Throughout her career, Judy Rankin recognized that she wasn't always the strongest golfer in the field, but she knew she had the grit and the strong will to win.
And so she won.
Rankin's celebrated golf career spanned over 20 years and included 26 LPGA Tour wins. After joining the tour at age 17, Rankin went on to earn back-to-back LPGA Player of the Year honors in 1976 and 1977, the Vare Trophy for lowest scoring average three times and inductions into the LPGA Tour Hall of Fame and the World Golf Hall of Fame.
Following her brilliance on the course, her grit pushed her transition to a broadcast pioneer. Rankin became the first female golf broadcaster in 1984 as a commentator for ABC.
This week as the golf world turns its attention toward Columbus, Rankin adds another honor to her resume. She is the 2019 Honoree at the Memorial Tournament presented by Nationwide for her contributions to the game of golf.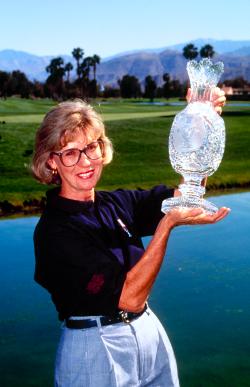 As a keynote speaker at the 2019 Women's Sports Report, an annual event of the Greater Columbus Sports Commission that recognizes girls and women who are taking sports to the next level, Rankin spoke in February about her decorated career and receiving the honor from the Memorial Tournament.
She said that in the early years of her career, women's golf was a "bonded group" that was working toward equality for women in all sports just by trying to play theirs.
"Being part of the LPGA starting when I was 17, I don't want to say you're part of a battle, but you're part of a group of people who has stopped giving up," Rankin said. "And they stick together through thick and thin. And there was so little money out there in the early years. Why someone, in that time, would be going professional was kind of crazy."
But Rankin's career flourished as she became a trailblazer for women in golf. In 1976, she became the first LPGA player to exceed $100,000 in season earnings, and the following year she set an LPGA record with 25 top-10 finishes, a record that still stands today.
"The important thing is you have the 'whatever' in you – the courage or the belief – because of how you work, to put it all on the line," Rankin said.
When she left the LPGA Tour in 1984, Rankin found a new career in an unexpected place – behind the camera. She admitted she felt initial fear during her first few appearances, but Rankin learned to enjoy her role and is now an analyst on ESPN and the lead analyst for the LPGA Tour telecasts on the Golf Channel.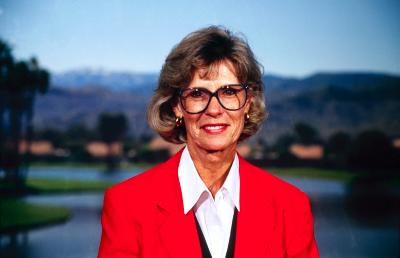 "I encourage everybody to do whatever the thing is that's very hard for them, but is necessary as to what they do," Rankin said. "It's amazing how, if you kind of work at it and come in with the right frame of mind maybe someone will get you a break, how your life might change."
As the 2019 Memorial Tournament Honoree, Rankin's dedication to the sport of golf will be celebrated throughout the event. But she said the honor is still hard to believe.
"I'm still in awe. I can't imagine if you go back and tell the little girl in St. Louis playing a nine-hole course that this is happening to me," Rankin said.
The Memorial Tournament presented by Nationwide runs from May 27-June 2 at Muirfield Village Golf Club. For more information, visit our event calendar.
---
Columbus supports and celebrates women and girls in sports who are making an impact. Women in Sports is an ongoing blog series featuring those who shape the Columbus sports scene and continue to inspire our community.