Even after nearly a decade of holding The Women's Sports Report, an event that recognizes girls and women who are taking sports to the next level, we continue to be enthralled by the stories of female leaders in our city.
The ninth-annual Women's Sports Report, presented by OhioHealth, featured a star-studded lineup comprised of LPGA legend and broadcast pioneer Judy Rankin and new Columbus Crew SC investor-operator Dee Haslam.
Both women shared stories about going beyond their comfort zones in the world of sports.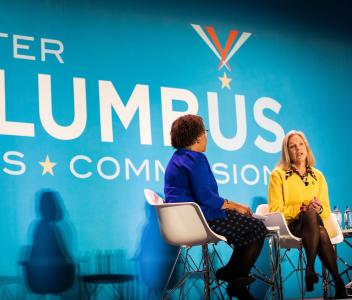 Haslam and her husband, Jimmy, broke into the local sports scene in December when they joined an ownership group that allowed the Crew SC to remain in Columbus. Although the Haslams have co-owned the Cleveland Browns for seven years, soccer was an entirely new venture for the pair. Haslam acknowledged that although she's honored to be the first woman on the Major League Soccer board of governors, "It's scary, isn't it?"
Rankin had a decorated LPGA career spanning over 20 years after joining the tour at just 17 years old, but her next venture drew her entirely beyond the golf routine she'd grown used to. She became the first female golf broadcaster in 1984 as a commentator for ABC Sports, but said her nerves initially made being a trailblazer anything but easy.
"I encourage everybody to do whatever the thing is that's very hard for them, but is necessary as to what they do," Rankin said. "It's amazing how, if you kind of work at it and come in with the right frame of mind maybe someone will get you a break, how your life might change."
Whether reflecting on moments in their career like Rankin or looking forward to the future of their team like Haslam, both women have strong ties to Columbus.
After retirement from playing, Rankin captained the United States to consecutive victories in the Solheim Cup, one of which was held at Muirfield Village Golf Club in Columbus in 1998.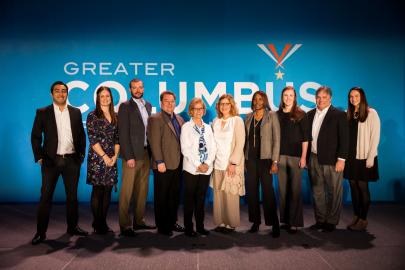 "I love the Solheim Cup and I loved captaining those two teams," Rankin said. "Both experiences were great and in Muirfield Village, I've never been treated so well. I've never had such an extraordinary week. Between everyone in Columbus and everyone who came from different places, it was a sellout every day."
Haslam also credited the Columbus fans, but for their efforts in saving the Crew SC. She said their support led the way for her family to find a home in Columbus.
"We love Ohio," Haslam said about her family, following the program. "That goes from a sports fan-base and the sports teams in Ohio, but the people in Ohio I've met are tremendous. The willingness to move forward and get things done in this state is so exciting."
With such dynamic women on stage, it was easy for all in attendance, from high school girls state champions to accomplished local leaders, to be inspired. 
"There's no going back, only forward together," Greater Columbus Sports Commission executive director Linda Logan said. "Columbus will continue to bid on and showcase women's sports throughout our community."
Read more about the event on The Women's Sports Report event recap.
 
Interested in attending The Women's Sports Report? Join us on Feb. 18!