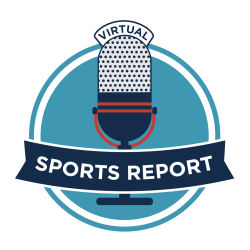 While fans are feeling lost without their usual slate of sports, the Virtual Sports Report turned what would've been a day at the ballpark into a season opener at home.
The Virtual Sports Report, a free weekly series over Zoom that brings fans together with Columbus teams and sports professionals, kicked off on April 9 with Greater Columbus Sports Commission executive director Linda Logan and Columbus Clippers president and GM Ken Schnacke in honor of the originally scheduled Clippers Opening Day.
Fans were able to ask Schnacke questions via chat before the segment closed with a cooking tutorial from Huntington Park executive chef Kayla Tukes for ballpark favorite foods.
Schnacke said the organization is disappointed to not be operating as planned, but the players have something to look forward to when play resumes.
"Tonight in pregame, we would've celebrated last year's 11th Governor's Cup championship," he said. "We would've handed out to the players all their championship rings. They're straining at the bit to get these, but I'm going to hold off on these until we get a little farther in and see if we're going to be able to play baseball."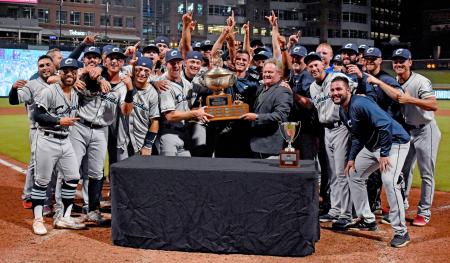 Opening Day would've been special for fans, too. Schnacke shared that throughout the offseason, the team continued with plans for a $1.2 million improvement project to Huntington Park. The upgrades include additions to the scoreboard, making it the second-largest in Minor League Baseball, and LED lights that will increase functionality and enhance in-game entertainment.                                 
Most importantly, Huntington Park has focused on safety, extending the netting between the field and stands out to the foul poles on each baseline.
"The safety of the fans is first and foremost," Schnacke explained.
Although Clippers players are currently staying conditioned for play at home, Schnacke noted that it's been positive to see the baseball community showing its support for those in need, from players helping out in their own communities to large donations for relief.
"There are some really neat stories happening in the world of sports," Schnacke said. "Those major leaguers that are making a little bit of money, they're pitching in and helping out to their communities and that's really nice to see in a time like this."
Although we aren't gathering at Huntington Park to celebrate the commencement of another baseball season, we're excited to root, root, root for the home team sometime soon.
If you missed the first episode of the Virtual Sports Report, you can watch the entire 25-minute segment here or follow along with the classic ballpark recipes below.
Join us each Thursday at 11 a.m. for new installments of the Virtual Sports Report! You can view and register for free for upcoming episodes here.
---
Clipper Ship Nachos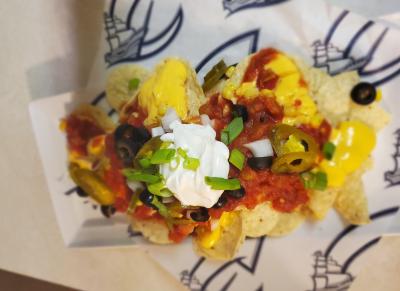 Ingredients:
8oz Tortilla nacho chips
6oz Protein choice (taco beef, chicken or black beans)
1 C Shredded or nacho cheese
(Optional) 1/3 C refried beans
1/2 C mild tomato salsa
1/3 C corn salsa
1/4 C diced onion
1/4 C sliced olives
1/4 C sliced jalapenos
Sour cream
(Optional) scallions for garnish 
Prepare your protein as recommended on taco seasoning package. Place chips on a plate. Heat nacho cheese in a microwave safe bowl for 2-3 minutes or in a sauce pot on the stove for about 5 minutes. Pour over chips. Next layer the protein, refried beans, tomato salsa, corn salsa, onions, olives, jalapenos and top with sour cream. Add scallions for garnish. 
Ballpark Caramel Corn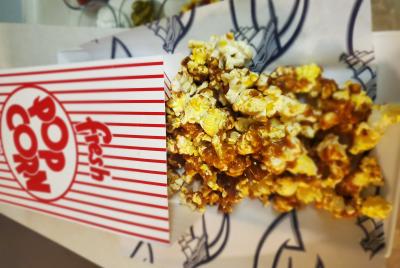 Ingredients:
10 C popped popcorn
1 C butter
1 C light brown sugar
2 tsp vanilla
1 tsp baking soda
Pop your popcorn to your liking, whether its air popped or microwaved. Lay the popcorn out on a lined sheet tray to cool. In a sauce pot, melt the butter on medium heat. Add in the brown sugar and stir until combined. Allow to boil for about 45 seconds then stir in the vanilla. Allow sugar mixture to boil for additional minute. Stir in baking soda. This will cause a small fizz and color change, but you want this to happen. Continue heat for 30 seconds. Carefully remove the caramel mixture from the stove and pour over the popcorn. Gently fold the caramel into the popcorn. Allow to cool completely and enjoy.