There are countless ways in which Columbus has grown over the last decade: new developments, new high-profile events and plenty of new fans. But in the world of sports, all the growth is paced with the careful keeping of traditions.
One of those traditions is The Women's Sports Report.
For a decade, The Women's Sports Report has brought together the Columbus community to celebrate girls and women in sports.  The event has featured female trailblazers, from Olympians to sports industry professionals, on the main stage for lessons on adversity, teamwork and dedication to their craft.
On Feb. 18, 2020, The Women's Sports Report, presented by OhioHealth, will celebrate ten years of delivering empowerment and inspiration to girls and women in Columbus. With the help of many supporters, both longtime and new, women's and girls' sports in Columbus are more prominent than ever before.
The Women's Sports Report has grown into an impactful event because it takes the "achievements and successes, and even challenges, of female athletes and highlights them," said Roxanne Price, senior director of compliance for the Ohio High School Athletic Association (OHSAA). Price said she has seen the growth of the
The Women's Sports Report firsthand as a longtime attendee and even a panelist during the first event in 2011.
"I recall the program being in a small ballroom in a hotel near [Ohio State's] campus and the moderator being able to flow between the tables in order to pose questions to the various individuals who may have been part of the program," Price said. "Now it's an event of much bigger scale growing into an event hosted at the [Greater] Columbus Convention Center."
That scale can be seen in the high-profile speakers that have come to Columbus for the event in recent years. In 2016, Olympic gold medalist Kerri Walsh Jennings graced the stage in anticipation of the NCAA Division I Women's Volleyball Championship. In 2017, WNBA legend Maya Moore inspired the crowd with stories of how the NCAA Women's Final Four was an eye-opening opportunity for young women. Trailblazing broadcasters Beth Mowins and Debbie Antonelli gave a lesson on empowerment and facing adversity in 2018. In the most recent installment, Columbus Crew SC owner-investor Dee Haslam and golf broadcast pioneer Judy Rankin took to the stage for an inspiring talk on overcoming fears in the world of sports.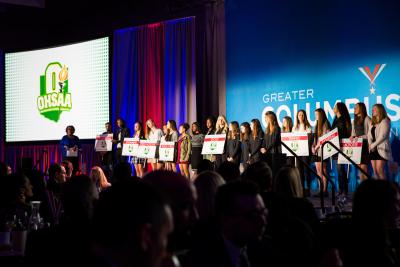 And while the event has changed in terms of size, attendance, support and speakers, it has also stayed true to its core mission and established an annual tradition unlike any other in Columbus.
Since the beginning, The Women's Sports Report has honored the OHSAA female state champions in the Columbus region during the program. Girls from different schools, with all different talents and backgrounds, come together to be recognized alongside the keynote athletes, coaches and professionals who they may idolize.
For Kristin Watt, a partner at Vorys and color commentator for Ohio State Women's Basketball, this part of the event feels special each year.
"I love that [it has] kept the hometown feel by recognizing our local high school athletes who have excelled, along with such a grand group of national talent," Watt said. "It is really a fine celebration of women in sports."
Watt has attended the event each year and said she can see the buy-in from the community for women's and girls' sports at The Women's Sports Report.
"We have so many college athletics [programs] right here in central Ohio – each of which have made deep and meaningful investments in women's athletics," Watt said. "We have a community that understands and appreciates what sports can do for young girls and women." 
Clara Kridler, a former student-athlete and current VP of People at Root Insurance, knows firsthand the care and recognition that is needed for female athletes to succeed, and she has seen it firsthand as a multi-year attendee at The Women's Sports Report.
"Taking the time to recognize the accomplishments of women in sports, along with the leadership that is required to continue to propel women in athletics, is what makes this such an impactful event," Kridler said.
Through its 10th anniversary, and beyond, The Women's Sports Report will surely continue to grow and adapt as a landmark event for Columbus women. But its dedication to inspiring and honoring women and girls in sports will never change.
Join us for The 10th Anniversary of The Women's Sports Report, presented by OhioHealth, on Feb. 18, 2020 at the Greater Columbus Convention Center. More information can be found here and tickets and registration can be found here.