If there's one thing Daniel. P Sullivan understands, it's how to put Central Ohio on the national sports map. Now, he'll use that expertise to lead the Greater Columbus Sports Commission as he takes on the role of Board Chair in his 17th year on the Board of Commissioners.
As President and Managing Partner of HNS Sports Group and Executive Director of the Memorial Tournament, presented by Nationwide, Sullivan has been instrumental in showcasing Columbus as a premier sports destination. He and his team have led the 2013 Presidents Cup, 2016 U.S. Senior Open and the annual Nationwide Children's Hospital Championship on the Korn Ferry Tour.
Only the third board chair in the Sports Commission's history, Sullivan replaces Nationwide Realty Investors president and COO Brian J. Ellis, who led the Sports Commission, and Columbus, to new frontiers during his tenure as Board Chair. These milestones include hosting the NCAA Women's Final Four, NHL All-Star Game and the creation of a new owned and operated event, The Community Cup, presented by The Columbus Foundation.
As the Sports Commission continues growing under Sullivan's leadership, here's a little background on his work and excitement for the new role.
---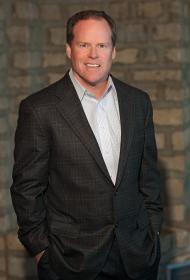 After serving on the Sports Commission board for over a decade, what does it mean to you to step into this role as Board Chair?
"[It's an] absolute honor. I have had the benefit of being a part of the Sports Commission since the beginning and have been impressed with and proud of its growth. Brian Ellis has done a great job as the chair for the past 13 years and Linda [Logan] has been a tremendous leader since its inception. I hope I can contribute positively in the coming years."
As executive director of the Memorial Tournament, presented by Nationwide, and president of HNS Sports Group, what initially influenced your decision to join the board and how has it impacted your work?
"I saw the opportunity to be a part of an organization that I knew was going to impact the city in a positive way. And I also saw the Sports Commission as an opportunity to contribute and lend my time and energy to something that will help the city grow."
In your career, you promote and showcase Central Ohio just as the Sports Commission does. In your words, why do you think Columbus is a premier sports destination?
"Columbus is a perfect city and market to attract sports – centrally located, easy to navigate, all the amenities of the largest U.S. cities without the inconvenience that typically comes with a large city, passionate fan base that supports teams and events. In my mind, Columbus has it all, and with each hosted event it proves it."
As a board member, you've seen defining moments for the Sports Commission – NCAA Women's Final Four, NCAA Division I Women's Volleyball Championship, The Community Cup, presented by The Columbus Foundation, and many more. What do you see for the future of the Sports Commission?
"I see growth. The success realized by hosting The President's Cup, Women's Final Four and all the NCAA events communicates that Columbus can compete with any city and outperform any city. We will take the past success and ensure future hosted events will be equally or more successful."
---
With the help of its talented and influential Board of Commissioners, the Sports Commission will continue its mission to rally Columbus to compete and win sporting events and positively impact image, economy and lifestyle. Columbus has no offseason, and the Sports Commission's championship event resume is sure to grow under Sullivan's leadership.
You can take a look at future events coming to Columbus on our event calendar.