Whether you're a lifetime resident of Columbus or just a visitor to Central Ohio, it's easy to see the passion for sports and fitness that pulses throughout our city. The community has thrown its full support behind playoff runs, packed the stands for high-profile events and even rallied to save a pro team, and that's just in the last year.
Columbus has no offseason, and for race director David Babner, the annual OhioHealth Capital City Half Marathon is a true celebration of that passion.
In 2004 the race was in its infancy stage, with just 2,500 participants lining up at the starting line in downtown for the inaugural Cap City Half Marathon. Since then, the race has steadily grown into one of the largest half marathons in the Midwest. Self-proclaimed as "the biggest race day party in the country," an estimated field of 13,000 runners and walkers will take over downtown on April 27 for one of the most vibrant annual sports events in the city.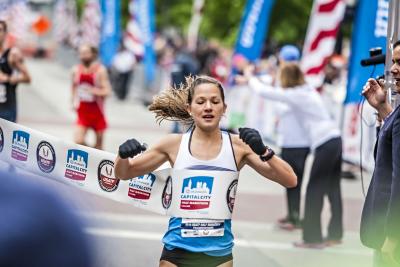 "The fact that the event has grown over 500% is a true testament of the incredible and vibrant running and walking community we have in Columbus," Babner said.
Aside from just the local resident support, the race draws more and more visitors to Columbus each year. It's estimated that the OhioHealth Cap City Half Marathon generates $7.5 million in visitor spending each year.
"Our city is an easy sell. Our community is vibrant, fun and authentic," Babner said. "We have always focused on creating the best tour of Columbus on two feet with the best post event party in the country."
Local companies flock to the post-event party at the Columbus Commons, making the race uniquely-Columbus. Last year, the Cap City Half Marathon became the first major running and walking event in the nation to have its own beer when Land-Grant Brewing Company created the 13.1 Wheat to celebrate its 15th anniversary.
Now with three different length races – the traditional half marathon, a quarter marathon and a 5K – the event is aimed at celebrating any and all kinds of runners and walkers in Columbus.
"The OhioHealth Capital City Half Marathon, OhioHealth Quarter Marathon and Commit to Be Fit 5k has become a remarkable Celebration of fitness of athletes of all different abilities in Columbus," Babner said. "We don't care how you participate, just come out and be part of the experience that is Cap City."
You can find more of the events, like the OhioHealth Cap City Half Marathon, that make Columbus a premier sports destination on our event calendar.