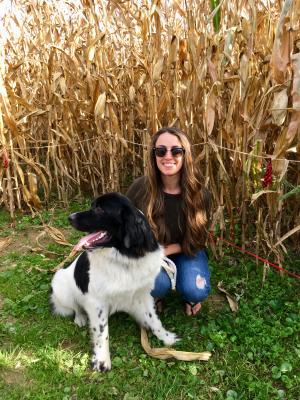 It's time, once again, for Meet the Sports Commission!
Over the past 15 years, the Sports Commission has hosted numerous marquee events. From the NAGAAA Gay Softball World Series to the NHL All-Star Game to the upcoming NCAA Women's Final Four, we have depended on the support of our community, particularly when it comes to volunteers.
Meet the member of our team who manages all things event servicing and volunteers—Events Manager Ariana Tyler! She's the woman in charge of making sure our events go off without a hitch, ensuring that our fans, participants, staff and volunteers have a wonderful experience in Columbus.
Read more about Ariana below!
--
Tell us about your path to the Sports Commission. 
I grew up in Michigan, about an hour north of Detroit, and graduated from Cranbrook Kingswood in 2008. I attended Miami University where I studied Athletic Training and Sports Studies. I ended up working for the Miami Football Team my senior year, handling game day recruiting events and assisting with official tours for potential student-athletes. Something just clicked, and I realized I'd much rather be on the management/marketing side of sporting events than in the training room.
I moved to Columbus shortly after graduation and eventually landed at Franklin Park Conservatory and Botanical Gardens as an Event Coordinator. I was working mainly weddings and corporate events. The position was great experience for event operations, but ultimately I knew I wanted to get back into sports.
Honestly, the position fell into my lap, for lack of a better phrase. I was at a work holiday party and ended up speaking to a young lady who works at Experience Columbus. At some point during our conversation, she mentioned that the Sports Commission was looking for an Events Coordinator. I emailed her my resume first thing the next morning, she forwarded it on and I got called in for an interview. The rest is history!
What specifically do you do for the Sports Commission?
I'm currently the Events Manager for the Sports Commission. I started in 2014 as an Events Coordinator and was promoted this past January. My focus is providing a custom service plan for all our accounts and ensuring that the event is successful in Columbus. My role really depends on the event I'm working on but usually I'm handling welcome programming, vendor referrals, onsite servicing, budget items, and volunteer management. Not only do we want the event to go off without a hitch, but we want both the client and event attendees to have a wonderful time in the city. The hope is that they'll want to come back and experience more of what Columbus has to offer.
You're in charge of all volunteers for the Women's Final Four in 2018, which is a big deal. Why is volunteering for the Women's Final Four important?
It's a huge deal! This event could not happen without the assistance of amazing volunteers. Through the week, there will be close to a thousand volunteers involved in all aspects of the Women's Final Four. Tourney Town, the free fan festival at the Greater Columbus Convention Center, is powered mainly by volunteers.
The volunteers are the people that the attendees are going to interact with the most. They're the ones that are going to leave those lasting impressions and really help us showcase our city. It's important to me that we find people who really love Columbus and want to be a part of this once in a lifetime event.
I'm happy to talk to anyone about the opportunities and encourage those that are interested to register as a volunteer! You can sign up for shifts now on our website.
Besides volunteering, what are you most excited about during the Women's Final Four?
I'm excited to see the whole thing come together. I was with the Sports Commission during the bidding process and when it was finally awarded to Columbus. It's been many years in the making and now we're only six months out, which is wild. It will be really rewarding to see all our hard work pay off and get to witness this event that was made possible by the collaboration of our city and partners. I know Columbus is going to put on a fantastic event and I think the fans and student-athletes are going to be blown away.
Switching gears—do you have a favorite sport to play?
I wouldn't call it "playing," but I am an avid equestrian. I have been horseback riding since I was five years old. My horseback riding actually led the family to move to a horse farm when I was seven. I competed through my junior career and spent my summers traveling to horse shows all over the country. While I currently don't have the time to devote to competing, I still ride regularly at a barn in New Albany.
What are some of your favorite things to do in Columbus?
Definitely eating! There are so many delicious restaurants in Columbus and it seems like a new place opens every week. There are also a lot of dog-friendly bars too, which means I get to bring my big pup along with me when I go out for drinks with friends. DK Diner is my go-to spot for brunch and then Char Bar for an after hours beverage.
Last question: what is a random "fun fact" about you? 
So, I mentioned that I grew up on a horse farm, but we also have alpacas and a fainting goat. It's more like a mini zoo with all the pets we've had. I don't know if I could name them all off the top of my head right now, but I did count once and in my 27 years, my family has had over 65 pets including an emu!
--
As Ariana mentioned above, volunteer shifts are now live for the Women's Final Four! Make sure to register!
Want to learn more about the Greater Columbus Sports Commission, our staff and our impact on the city? Check out more here!