Temperature checks, strict testing guidelines and limited exposure to the outside world. It may not sound like a normal event, but The Basketball Tournament (TBT) is leading the sports world with a thorough safety plan that brought the national event to Columbus this summer.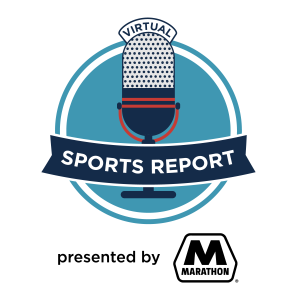 Before the event tipped off on July 4, TBT founder and CEO Jon Mugar and Jon Diebler, a player for the tournament's Carmen's Crew team, joined the Virtual Sports Report, presented by Marathon, to talk about hosting and playing in a major sports event under quarantine during the COVID-19 pandemic.
"We wanted to put on as de-risked version of basketball as we could," Mugar told the audience. "And really give players the confidence that their opponent would have gone through the same measures of testing that they went through."
TBT began in 2014, and has grown into a summer classic in the basketball world. The event is a winner-take-all, single-elimination tournament for a $1+ million prize. This year, it represented the first live basketball event in the U.S. since the onset of the pandemic in mid-March. TBT brings NBA-level and former collegiate basketball talent to the court, oftentimes offering a opportunity for former teammates to suit up together once again.
For Diebler, a star player for Ohio State from 2007-2011, the event unites his family of former Buckeyes on their alumni team, Carmen's Crew, to face off against elite talent once again.
"You look at the teams in this tournament and the players involved, it's pretty incredible to see how it's growing," Diebler said. "Each year it gets more competitive."
Despite seven years of the event in the books, TBT is operating in a way that's anything but normal in 2020. Instead of hosting at separate sites for regional and final rounds, the entire tournament is being played over 10 days at Nationwide Arena. In June, TBT organizers worked urgently with state and city leaders to formulate a robust safety plan that isolates staff and players to their hotel and arena "bubble."
"A big part of it is testing, but we know that only gets you maybe 30% of the way there," Mugar said. "A huge part of it is how players are acting prior to the tournament. Their vigilance, how they act within the bubble… Once a team starts practicing, a single positive test will remove that team from competition."
Mugar said that TBT was sold on hosting in Columbus due to trusted city partners, coordination with health officials, access to the hotel and Nationwide Arena and the city's central location for traveling teams. 
"We could have looked for this venue and this arrangement for two years and wouldn't have found it," Mugar said. "We happened to find it in about 10 days thanks to our partners who are already here. It's a phenomenal setup for us."
Although TBT is a made-for-television event without fans, live basketball on TV is making the pandemic feel a little more like sports have returned.
TBT continues every day through July 14 on ESPN. You can watch the full episode of the Virtual Sports Report featuring Mugar and Diebler here.