The 2018 NCAA Women's Final Four undoubtedly had a lasting impact on athletes and fans throughout Columbus. Following the three exhilarating games and countless special touches for student-athletes throughout the city, the elation of crowning of a new national champion at Nationwide Arena lives on in the staff, fans and organizers of the milestone event.
But for Celia Anderson, director of business development for the Greater Columbus Sports Commission, the event was personal. Celia played Division I collegiate basketball at the University of Arkansas, playing center on a team that advanced to the NCAA Women's Final Four her freshman season.
Now on the other side of the sport, Celia works to bring new premier events to Columbus. With the Sports Commission's bid to host the NCAA Women's Final Four in Columbus again in 2025 or 2026, Celia reflects on how her playing days prepared her for her career and life after basketball.
---
What did playing basketball mean to you then, and what advice would you give to younger athletes in that moment now?
I am the ultimate hoop dreams testimony – a girl from the inner city who found a talent that ultimately changed the narrative for her entire family. I am forever indebted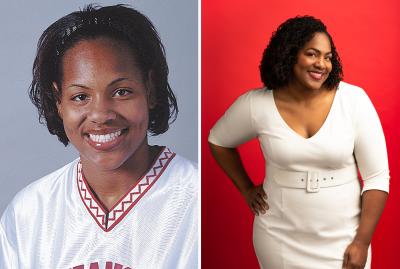 to the game. I still love how small you feel when you are in an empty arena alone. It has always been a great reminder to me that I was a part of something big. Even today, when I watch my own daughter play, it gives me goosebumps to see the game live in her. My best advice to younger athletes is to remember that basketball is something you do, not who you are. Pledge a sorority. Make non-athletic friends. Get to know fans. Get a professor as a mentor. Study abroad. These things will make your transition to life after sports much easier.  
How has your experience as a student-athlete helped you in the rest of your life and career?
I will be here ALL DAY answering this question! There are too many transferable skills to name! Basketball is truly a trial run. For my job as Director of Business Development, the hardwood has turned into the boardroom, teammates into co-workers, coaches into supervisors and games into sales contracts. Because of my time at Arkansas, I have the innate ability to embody the brand of company I work for, empathy for others, a strong respect for authority and I'm not afraid to lose. These were all things that were a part of the basketball culture first, which allowed me the opportunity to get many of them wrong during my playing years. Luckily, I got to feel the consequences of those choices and get it right in life. 
Now, you work in a city with profound support of women's basketball. What does that mean to you and your family?
When I applied for a job in Columbus, I knew I wanted to live here because it is progressive and, in my eyes, a leader in our industry. I must also admit that the fact it is also the third most recruited state for girls basketball didn't hurt either. This city loves girls basketball. Since moving here, my daughter has had the opportunity to play with players every day who will certainly play Division I basketball. I have also connected with several former players who are now professionals. I love that we didn't have to search for the magic that is women's basketball here, it's ingrained in the DNA of the city. I love it.
In your opinion, what made the 2018 NCAA Women's Final Four so special, and what makes Columbus a premier destination to host again in 2025 or 2026?
In college, after every game, win or lose, we had to stay on the floor, shake every hand and sign every autograph. My coach used to say it's not enough for fans to know your talent, they need to know you. In our sport, having great players is a small part of the equation. Columbus understood that. The city embodied the spirit of  women's basketball in that it shook every hand and signed every autograph. Everything from Tourney Town, to wrapped buses, the Beyond the Baseline sessions, the city's decor and game days were handled with great care. Columbus has the ingredients that can only be found in a city that loves women's basketball. If the past helps predict the future and we are selected in 2025 or 2026, women's basketball fans are in for another historic weekend. 
---
You can find more details on Columbus' 2025 or 2026 NCAA Women's Final Four bid here.