It's hard to believe the NCAA Women's Final Four was held in Columbus 152 days ago (as of this post) but we continue to count the many ways it impacted our community.  
And although 152 days seems like a lifetime ago, for many it was just the beginning. The Women's Final Four demonstrated the importance of hosting marquee events in Columbus and the legacy they can leave long after the last buzzer.
Sue Schnitz and Darlene Davis are part of those counting and as certified public accountants (CPA)—they know the importance of numbers. However, even the most skilled CPA understands that numbers aren't always the entire story.
"It is an important part of our culture," Schnitz said about the 2018 NCAA Women's Final Four at Nationwide Arena. 
"It was awesome, and I was filled with pride to see this come to Columbus," Davis said from her offices near Nationwide Arena.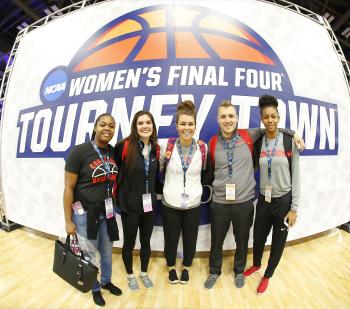 Both Schnitz and Davis value the visible numbers that resulted from the NCAA Women's Final Four:
$21.7 million in economic impact
39,123 fans attended three sold out games
377 part- or full-time jobs created
Behind the scenes, another number left a lasting impact: 61.
That's the number of women-owned businesses involved in delivering the Women's Final Four experience to Columbus. From those involved in pitching the NCAA for the right to host the Women's Final Four to accountants like Schnitz and Davis who made sure the event stayed on budget to marketing and event service providers who kept things fun and organized, women from across the region came together to bring a vision to reality. Those comprehensive and diverse set of skills created a community impact that will last long past the final buzzer.
"First and foremost, we picked these business owners because they are great at what they do," said Linda Logan, executive director, Greater Columbus Sports Commission. "It was also important to show the world that Columbus is open to business and fun for all."
"The organizers made a commitment to diversity and inclusion from top to bottom," said Davis, one of the first African American female CPAs in Central Ohio. "I was more than happy to participate in an event that was a class act from planning through execution."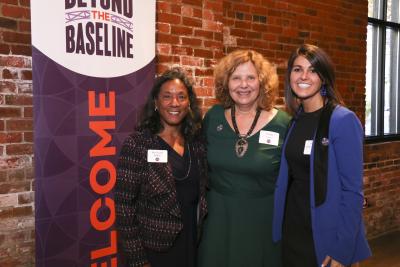 Schnitz has owned Perfect Balance Accounting for more than two decades. Many members of her team played sports in high school and college.  She was thrilled to see the Women's Final Four showcase how sports can help the overwhelming majority of athletes who never go pro.
"Sports gives our children the opportunity to learn how to be a part of a team, to win and lose and makes everyone a better person for it.  It teaches them to respect coaches and teammates," she said.  "A few also go on to play at the college level and (sports) provides opportunities for scholarships and other opportunities that they wouldn't have had."
Logan said the event also created opportunities to support Columbus programs that help children throughout the year. Through the Sports Commission's legacy projects, five programs received a total of $70,600 to fund various health and education initiatives for children and families across Central Ohio. 
"Well beyond the entertainment value of sports, this is sometimes the first opportunity our youth have to participate in an activity with others who are not like them in skill level, temperament, race and a host of other factors. This is an invaluable learning opportunity," added Davis, who served as the accountant for the city's Women's Final Four local organizing committee.  
Looking back, many basketball experts touted the 2018 Women's Final Four as one of the best basketball events of all time:
Three games decided in overtime
Two buzzer beaters
One new National Champion
Schnitz and Davis are proud of those numbers and the work that went into them. They also see larger numbers on the horizon. Both believe the Women's Final Four will springboard Columbus, bringing in new events and opportunities to further an already large footprint numerically, socially and everywhere in between.
"There are a lot of smart, savvy women out here working hard in a variety of venues to fulfill dreams of building successful businesses and making a positive contribution to our communities," Davis said. "It was great to have them highlighted during the event."