What started as just a workout is now giving Morelle McCane a shot at the Olympics.  
The sport of boxing didn't come into McCane's life until she was a teenager visiting the local gym where her niece was taking lessons. But soon the gym sessions led to practices, which led to competitions like the Cleveland Area Golden Gloves. Despite having what she calls a "late start" to her competitive career, McCane won the very first competition she entered at age 18. 
And she knew she wanted to make winning a habit.  
"From that day forward, I knew I wanted to get better and just beat the odds," McCane said.  
With a few more years, fights and titles under her belt, the 24-year-old will compete this week at the USA Boxing Eastern Elite Qualifiers and Regional Open at the Greater Columbus Convention Center. The event will bring hundreds of male and female boxers to Columbus, from participants in Pee Wee to Elite divisions, with the best finishers in each Elite weight class advancing to the 2020 USA Boxing Olympic Trials. 
For the Cleveland native, it doesn't hurt that the competition will be in her own backyard.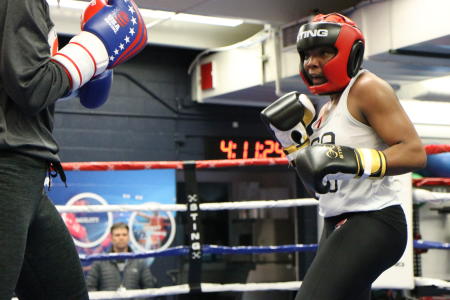 "I'm a little bit more relaxed," McCane said. "A little bit more comfortable because I see a lot of familiar faces and see people rooting for me, coming from my hometown. It gives me confidence and more excitement to win."  
The high stakes are nothing new for McCane, who recently won bronze for USA Boxing at the Strandja International Tournament in Sofia, Bulgaria. She has already qualified for the Olympic Trials, but at a different event and in a higher weight class. She'll try to do it again this week in Columbus. 
"Now that I'm healthier, more disciplined, I'm at the weight that feels good to me," McCane said. "I'm in competition mode…  I'm ready to win." 
After beginning her training as the only girl at her home gym, McCane will again compete against some of the best boxers in the country. As women, they face certain hardships the men don't encounter. Finding different sparring partners can be a challenge in general, McCane said, but is much more difficult for women. 
"You have to find the work where you get it and it's rare that you find it," McCane said. "Our practices are way different. You have to literally spar with the same people over and over again, and then you get used to it so it's not even a learning process anymore." 
The training has proven useful, as she describes the commitment learned from boxing as the best, and sometimes worst, part of the sport. 
"Boxing is one of the most disciplined sports because you've got to make weight, you've got to watch what you eat, it encompasses everything in your life," McCane said. 
But in the end, it's worth it. 
"A lot of people don't know, but discipline is self-love. If you're disciplined, you love yourself." 
McCane competes Wednesday through Saturday at the Eastern Elite Qualifiers. For a full schedule and more information, visit our event calendar listing. 
Photos courtesy of USA Boxing.
---
Columbus supports and celebrates women and girls in sports who are making an impact. Women in Sports is an ongoing blog series featuring those who shape the Columbus sports scene and continue to inspire our community.