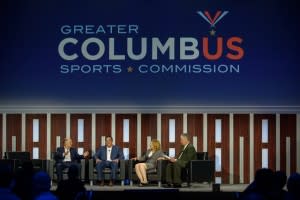 The theme of the 2016 Morning Sports Report of the Greater Columbus Sports Commission was: There's never an offseason in Columbus sports.
If anything, this may have been an understatement, and could be amended to: There's never even an off day in Columbus sports.
For example, after The Morning Sports Report on Wednesday at the Greater Columbus Convention Center, several of the near-800 attendees hustled over to the Scioto Country Club to watch the top seniors practice for the U.S. Senior Open that runs August 11 to 14.
The Clippers play tonight; the Crew SC hosts New York on Saturday; Ohio State Football is less than a month away; the 2016 World Cup of Hockey Training Camp will be held at Nationwide Arena September 5 - 9; the NCAA Division I Women's Volleyball Championship is set for December 15 & 17 at Nationwide Arena and…
You get the idea.
And there's more events on the way, as some of the city's top sports executives dropped some big news during the Morning Sports Report.
The U.S. and Mexico World Cup (soccer) qualifying match is set for November 11. And it could be played here.
"We're working to secure that game (at Mapfre Stadium)," said Andy Loughnane, the Columbus Crew SC's President of Business Operations. "And there's a very strong possibility it will be played here, provided the men's team qualifies."
The U.S. Men's National Team is 9-0-3 in World Cup qualifying games in Columbus.
"When we think about playing here in Columbus, the one word that comes to mind is special," said Neil Buethe, the U.S. Soccer Federation's Director of Communications. "We've played so many important matches here, especially against our arch-rival Mexico."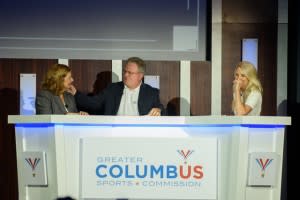 Ken Schnacke, President and General Manager of the Clippers had lots of news.
The Clippers – and Huntington Park – are the favorites to host the 2018 Minor League Triple-A All-Star Game, as well as the 2018 Minor League Triple-A National Championship game.
"The games are ours if we can hit certain objectives," Schnacke said. "We have a little more work to do, but we're almost there."
He also announced that if the Clippers draw 600,000 fans this season, a very reachable total, all the tickets to all the team's playoff games will be free. "Free baseball as we go for another Governor's Cup," Schnacke said.
Columbus Mayor Andy Ginther is a big sports fan.
"Columbus is getting a national reputation for hosting big sports events," he told the crowd at the Morning Sports Report. "I recently attended the USA Track & Field Half Marathon Championships and the city was so excited about it. As a golf fan, I'm really looking forward to welcoming some of the greatest golfers in the world here (at the U.S. Senior Open)."
The Greater Columbus Sports Commission is working hard to keep all this momentum going, and bring in even more top-notch sports event.
"Since 2000, Central Ohio has hosted 80 NCAA championships and 40 Big Ten championships," said Linda Logan, Executive Director of the Greater Columbus Sports Commission. "And we have 47 bids we're submitting Friday for the 2019 - 2022 cycle (of NCAA championships)."
The Greater Columbus Sports Commission has booked 386 new sporting events since 2002, generating an estimated $402 million in visitor spending.
The Olympics have been dominating the sports news lately, and there are numerous Columbus connections – and athletes to root for.
"We have 16 athletes competing," said Gene Smith, the Ohio State Athletic Director.
"And (U.S. gold medalists) Simone Biles is from Columbus and Gabby Douglas trains here and (diver) Abby Johnston is from Upper Arlington," Logan added.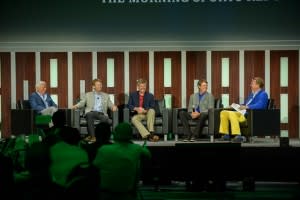 Blue Jackets Coach John Tortorella thinks his young team is on the rise.
"Cleveland won the (American Hockey League's Calder Cup championship) and I think we'll have four or five of those kids competing for a spot on our team," he said. "And that's a good thing for the team."
In addition to the NCAA Div. I Women's Championship in volleyball, the National Collegiate Men's Volleyball Finals will be held May 4 to 6, 2017 at Ohio State's St. John Arena. The Buckeyes are the defending men's national champs.
This is the first time the same city has hosted the Women's and Men's NCAA Volleyball championships.
"It's pretty unique and special and our teams are very excited about it," said OSU Women's Coach Geoff Carlston.
It's not just the players and coaches who are excited. Fans all across Central Ohio are ready to welcome many of the world's top athletes. Especially our sports-loving Mayor.
"I can't wait to see the NCAA Women's Final Four here (in 2018) and my goal is to get an NCAA Men's (Basketball) Regional here in Columbus," Ginther said. "We're ready."