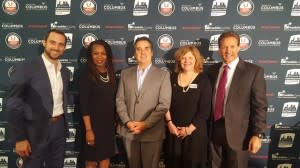 David Babner's eyes always light up and he gets excited whenever he talks about the OhioHealth Capital City Half Marathon.
But this year, his enthusiasm is off the charts.
"It's really going to be something special this year," said Babner, the founder of M3S Sports and race director of the half marathon, which annually attracts about 15,000 runners from Central Ohio and beyond.
"Columbus is the city that crowns champions," Babner said, and this year's USA Track & Field (USATF) Half Marathon Championship will be held in conjunction with the Cap City Half Marathon on April 30. About 200 elite runners from across the country will run the 13.1-mile route and compete for the men's and women's national titles.
They will run fast, very, very fast.
"We're bringing in the country's best runners," Babner said. "And, all of our runners, all 15,000 of them, will run on the same course as the champions. They'll start at 7:55 (in the morning) and then everyone else will start a few minutes later."
The race will be televised live on WBNS-10TV and thousands of people are expected to line the route. "We're going to capture the essence of this great community event," said Jeff Hogan of WBNS-10TV.
The USATF Half Marathon Championship will also be held in conjunction with the Cap City Half Marathon in 2017.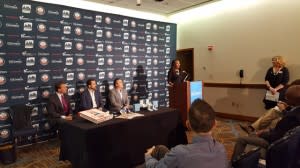 The race is "one of our most prestigious events," said Stephanie Hightower, president of USA Track & Field (USATF), a former Ohio State track star and current CEO of the Columbus Urban League.
"Our residents are in for a real treat," Hightower said. "To have the experience of watching these elite runners here in Columbus, in my last year as president (of USATF), does my heart good."
One of these elite runners is Des Linden, who qualified for her second U.S. Olympic team with a second-place finish in the marathon at the recent Olympic Trials. Linden has also finished second in the USATF Half Marathon Championship in 2013.
"This will be my last all-out effort before the Olympics (in August in Rio de Janeiro)," she said. "I want to be a national champion at some point and I think Columbus would be an awesome place to accomplish that."
The men's race will feature Abdi Abdirahman, a four-time U.S. Olympian; Nick Arciniaga, winner of the 2015 Cap City Half Marathon and 2013 USATF Marathon Championship; and Craig Leon, a former Ohio University standout and winner of the 2014 Cap City Half Marathon.
"It's pretty quick," Arciniaga said of the Cap City course. "It's similar to some of the faster courses in the U.S."
His winning time in the 2015 Cap City Half Marathon in 1:05:56, and this year the top men are expected to run faster.
"I think they could go sub 1:01," Babner said, adding a sub-1-hour finish is possible. "The course is flat and fast, so it depends on the weather, mostly the wind."
Leon, who is from Van Wert, Ohio, will have a lot of people cheering him on.
"Yes, for sure, (Van Wert) is 90 minutes away," he said. "And there will be a lot of folks I went to school with at Ohio University. A lot will run in the open race and others will be there to cheer me on. It will be fun to reconnect with a lot of people."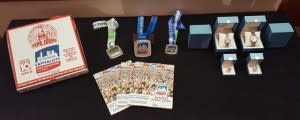 While Leon and many of the other top runners will have some fun, the USATF Half Marathon Championship is a serious race. About $120,000 in prize money and incentives is at stake, and the men's and women's winners will each receive a national championship ring and watch. Papa John's of Central Ohio will feature the OhioHealth Capital City Half Marathon on its pizza boxes.
Columbus Blue Jackets captain Nick Foligno is the race's honorary race director. The race's charitable arm – which benefits fragile newborns in the Neonatal Intensive Care Unit at OhioHealth Riverside Methodist Hospital and hospice patients at OhioHealth's Kobacker House – are why he is so involved.
"That really hit home with me," said Foligno, whose daughter was born with a congenital heart defect that required open-heart surgery a few weeks after her birth.
The Blue Jackets captain said he'll bring the team's famous cannon with him to the race "and will shoot it off every now and then."
The Cap City half Marathon began in 2004 and the race's rapid growth into one of the largest and best-run half marathons in the country parallels the rising popularity of the 13.1-mile race distance.
"The half marathon exploded in popularity in the late 1990s," Babner said. "There's been so much growth in the number of our participants and (hosting the national championship race) is going to make it even more special for everyone. I can't wait."