Ohio State Athletics, the Greater Columbus Sports Commission Partner to Host
One of NCAA's Marquee Sporting Events Estimated to Generate $10M in Visitor Spending for City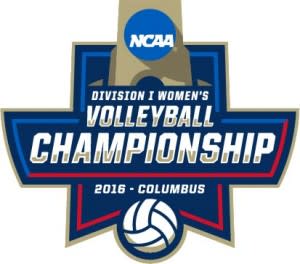 For only the second time in the history of the tournament, the 2016 NCAA Division I Women's Volleyball Championship is headed to the Buckeye State.  The Greater Columbus Sports Commission, in partnership with The Ohio State University and Nationwide Arena, were awarded this event in December of 2013, which includes both the semifinals and final rounds, along with the American Volleyball Coaches Association Convention, December 15-17, 2016.
This NCAA event will culminate in downtown Columbus as the top four teams in women's college visit Nationwide Arena to crown a national champion. The two semifinal matches will be played on Thursday, December 15 with two teams advancing to championship match on Sunday, December 17. The American Volleyball Coaches Association (AVCA) Annual Convention attended by 2,500 coaches, and the AVCA UnderArmour All-American match for high-school girls will be held in conjunction with the event, along with other official NCAA activities.
The Ohio State Women's Volleyball Program advanced to the NCAA Sweet 16 in 2015 and is looking for an even deeper run in 2016, with the chance to compete for the Championship in Columbus. In the last seven years, the Big Ten Conference has had at least one team, if not two, in the semifinals. With a Midwest site for this event, our ability to draw fans regionally from Big Ten schools will be an important advantage.
"Hosting the NCAA Division I Women's Volleyball Championship is a dream come true for Columbus," said Greater Columbus Sports Commission Executive Director Linda Logan.  "Columbus has grown into one of the largest volleyball communities in the country and we look forward to showing NCAA volleyball fans why we are considered the "Volleyball Capital of the Midwest."
Presale tickets will be available August 9 through August 14 with official ticket release on August 15. All-session tickets are $70 and $40 lower level and upper level, respectively. Single-session tickets are $45 and $25 lower level and upper level, respectively. Group tickets (10 or more) are available in upper level only, $20 for all-session and $15 for single-session. Tickets are available through ncaa.com/volleyball  or at Big Lots Box Office at Nationwide Arena, all Ticketmaster locations, at ticketmaster.com or 1-800-745-3000. Group tickets can be purchased through 1(800)GO-BUCKS.
The NCAA Division I Women's Volleyball Championship will generate an estimated 10 million dollars in direct visitor spending for Central Ohio. The semifinals and championship matches typically attract more than 36,000 fans to Nationwide Arena over two nights, with all three matches nationally broadcast on ESPN. The AVCA UnderArmour All-American match will also be nationally broadcast on CBSSports. The event, including the AVCA Annual Convention, will represent close to 5,000 total room nights, not including fan accommodations. The AVCA will utilize more than 90,000 square feet at the Greater Columbus Convention Center for their meetings.
The Greater Columbus Sports Commission is a catalyst, driving the collaborative efforts of the Central Ohio region in attracting and hosting a wide variety of sporting events.  The Sports Commission provides the experience and expertise in sports marketing and event management that has established our region as a premier sports destination, hosting more than 350 new sporting events that have generated close to $380 million in visitor spending, while retaining annual events that have generated an additional $250 million to benefit our local economy. For more information, visit www.columbussports.org.
CONTACTS:
Bruce Wimbish | Greater Columbus Sports Commission | 614.632.7600 | bwimbish@columbussports.org
Kyle Kuhlman | Ohio State Athletics | 614-292-0088 | kuhlman.137@osu.edu