Each year, the Greater Columbus Sports Commission is thrilled to celebrate the year in sports with community partners, board members and the entire Columbus sports scene at The Morning Sports Report, presented by Marathon.
This year's event was as exciting as ever, but it also felt like something new was in the air.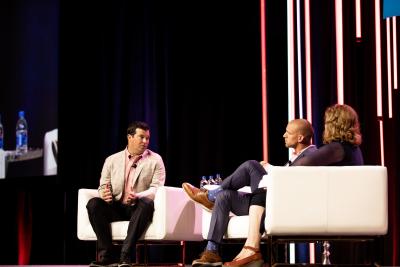 Two coaches in their first seasons, Ohio State Football Head Coach Ryan Day and Columbus Crew SC Head Coach Caleb Porter, brought expertise and personality to the stage as they shared the triumphs and challenges of taking over two of Columbus' most storied teams.
These two coaches exuded passion for their teams and this community, leaving the entire room inspired for a new era of Columbus sports.
For Porter, who spent time in Ohio while coaching at the University of Akron, the passion shown by the Columbus community with its successful effort to keep Crew SC was a huge draw when finding his next Major League Soccer position.
"I throw everything into these jobs," Porter said. "It's everything to me. I live, eat, breathe, sleep these jobs, so I only take jobs that I'm inspired by. I have a couple places that I feel like are home for me and Ohio's one of them."
Day certainly has his own sense of familiarity with Columbus after two years as an assistant coach for Ohio State Football. Now in his first head coaching position at the helm of the Buckeyes program, Day said the role is an honor, but he is only looking forward.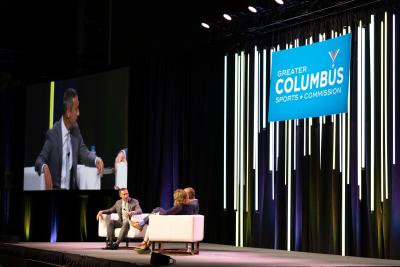 "To get caught up in the expectations that way doesn't do you any good," Day said. "What I tell our players and our staff is that if you worry on the past, you just get frustrated. If you start to focus on the future, you get anxiety and start to worry about things. So, what are you doing today to make sure we have a good future?"
The program acknowledged that it's been a standout year in sports for Columbus. With continued recognition of the 2018 NCAA Women's Final Four, the return of the AFL's Columbus Destroyers, entering a second decade of the Clippers in Huntington Park and, of course, a historic postseason run for the Blue Jackets, it's been a thrilling year to be a Columbus sports fan!
The city will continue to shine in the world of sports. Coming up over the July 4 holiday is the USA Fencing National Championships and July Challenge, an event that will bring thousands of elite fencers of all ages to Columbus. The Sports Commission's very own corporate challenge, The Community Cup, presented by The Columbus Foundation, will return on Sept. 28 for its second year at Otterbein University. With bids on the horizon for NCAA and U.S. Figure Skating championships, the Sports Commission staff will be working overtime to position Columbus as a premiere sports destination.
As executive director Linda Logan said at The Morning Sports Report, Columbus is still catching its breath from 2018, but the future is incredibly bright.
For more information on upcoming events, visit our event calendar.