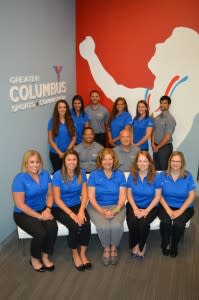 One of the great things about sports is there's always next season.
Well, next season – the 2017 every-conceivable-sports season in Columbus – is upon us. And, what a year this year will be, with many of the biggest individual stars, teams and events coming to the Midwest's sports super city.
To help me preview some of these events (there's not enough space, even in cyberspace, to write about all of them), I solicited the help of the city's sports experts: the staff of the Greater Columbus Sports Commission.
The sports year got off to an exciting start with the USA Fencing January North American Cup January 6 to 9. As for the rest of 2017, here's what the staff of the Sports Commission are most looking forward to:
Linda Logan, Executive Director: "At the top of my list is the NCAA Division II Women's Basketball Elite 8 & National Championship."
This event is symbolic of the growth of women's sports – at the youth, high school and college levels – on the national level, and right here in Columbus. The city has gained a national reputation for hosting big-time women's events, culminating in the 2018 NCAA Women's Final Four at Nationwide Arena. This is the first time Columbus has hosted this event.
Jenn Cartmille,  Marketing Manager: Jenn also picked the NCAA Division II Women's Basketball Elite 8 & National Championship because: "It showcases a popular sport that engages fans of all ages and also shows off our city in a new way."
This event is unique, as it features the national quarterfinal games (March 21), national semifinals (March 22) and championship game (March 24). The games will be played at Ohio Dominican University's Alumni Hall and will air on CBS Sports Network.
Lauren McNerney, Business Development Manager: "I'm looking forward to the American Collegiate Hockey Association (ACHA) making history here in Columbus by having all five divisions (Men's Divisions 1, 2 and 3 and Women's Divisions 1 and 2) come together for their National Championships. We'll help the ACHA welcome more than 80 teams competing in 100-plus games at the OhioHealth Chiller Ice Rinks (Dublin, Easton, North) and the OhioHealth Ice Haus at Nationwide Arena."
This is the first time this event has been held in Columbus. It will take place March 9 to 19, and again in 2018 in Central Ohio.
Brian Timm,  Director, Corporate Partnerships: "I'm looking forward to the National Collegiate Men's Volleyball Finals, May 4 to 6 at St. John Arena. The Buckeyes are the defending champs and currently ranked #1 in the nation. It would be great to see them win a second consecutive title on their home floor."
The NCAA Division I Women's Volleyball Championships were held at Nationwide Arena in December. This is the first time the same city has hosted these two championship events in the same academic year. Columbus is renowned as a top destination for volleyball championships, with several other big-time events coming here in 2017 (keep reading!).
Jeremy Leifel, Director, Business Development: "I'm looking forward to the 2017 USA Volleyball Boys' Junior National Championships, which are returning after setting their attendance record here in 2015.  Over the years, our team has continued to build a strong relationship with USA Volleyball and their success in Columbus is a result of the long partnership with the Sports Commission and the Ohio Valley Region of USA Volleyball. I hope to see them set another attendance record this year and am confident our city will exceed their expectations."
This tournament will be held July 1 to 8 at the Greater Columbus Convention Center. It will attract more than 15,000 players and spectators, and generate 22,000 hotel room nights and as estimated $13 million in visitor spending.
Eric Archibald, Director, Events: "I am looking forward to the continuation of our city as the volleyball Mecca: Hosting the National Collegiate Men's Championship, the second coming of the Junior Volleyball Association SummerFest, the largest boys' volleyball tournament ever – the USA Volleyball Boys' Junior National Championships and the North American Gay Volleyball Championships.
The Junior Volleyball Association SummerFest is June 3 to 4 at the Greater Columbus Convention Center, which has hosted more volleyball matches than any other facility in the country. This tournament will feature more than 230 teams and 7,500 players (girls ages 12 to 18), coaches and fans.
The North American Gay Volleyball Championships are May 26 to 28 at the Greater Columbus Convention Center and about 150 teams from the U.S., Canada and Puerto Rico and 1,000 players, coaches and fans are expected to attend.
Bruce Wimbish, Director, Marketing & Communications: "The USA Track & Field Half Marathon Championships that are part of the OhioHealth Capital City Half Marathon. Columbus is becoming a national destination for running events and this is another big step. This is our second year hosting this event and it will feature about 150 of the top male and female elite runners, as well as the thousands of people competing in the Cap City Half Marathon."
The race will take place April 29 on the streets of Columbus.
This is just a small sampling of what's ahead. Here's the link to the Sports Commission calendar of events.
http://www.columbussports.org/events/major-event-outlook-bids/