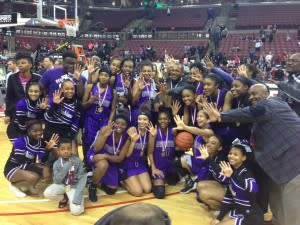 It was a few minutes before Columbus Africentric and Marion Pleasant took the court for the OHSAA Girls Div. III state basketball championship game at the Schottenstein Center – and there were plenty of butterflies and jangling nerves.
The players?
Sure, but we're talking about the parents of the Africentric players, who were gathered behind the Nubians bench and decked out in black-and-purple garb.
"I'm so nervous," said Kim Azubike, whose daughter, Kynnedy is a junior starter. "It's so amazing that they're playing on this big stage, in this arena, and it makes me even more nervous."
Fortunately, Kim was prepared.
"I wear the same thing to every game; I refuse to change my clothes, even my socks," she said of her superstition. "But I do wash them."
Nearby were Malika and Leigh Horston, whose daughter, Jordan, is a freshman and the team's starting point guard.
"It's difficult, my nerves are sky high," Malika said.
Leigh seemed a little calmer, but he's been here before, as an assistant coach on the powerful Northland High boys team that made a few state championship appearances.
"She was a little kid and running around here back then," Leigh said.
Jordan and Kynnedy and their talented teammates did a lot of running around on Saturday, as their full-court pressure was the deciding factor in the Nubians 59-37 win. This was the fifth state championship for Africentric and coach William McKinney.
"The OHSAA Final Four is second to none, of any state, in putting these events together," McKinney said. "It's top flight and the girls have a wonderful time and the community should be commended."
The four OHSAA state championship girls basketball games tipped off what just might be the most exciting, action-packed and pressure-filled, period in the city's long and storied basketball history. It's a good thing Columbus has so many first-class – and large – arenas.
This coming weekend, the OHSAA Boys basketball championships are March 17-19 and also at the Schottenstein Center.
The Ohio State men's basketball team will host Akron on Tuesday night (March 15) at 7p at the Schottenstein Center in the opening round of the NIT. The game will be broadcast on ESPN.
The Ohio State women's basketball team is expected to get a high seed for the NCAA Tournament and host at least one game at St. John Arena this week. Pairings will be announced tonight (March 14).
The NCAA Div. III Women's Basketball Semifinals is March 19 at Capital University. Tickets are still available.
That's a lot of big-time basketball games, teams and players.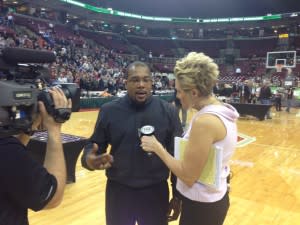 "This was something I always wanted to do, to make it here," Jordan Horston said of the OHSAA state championship game. "It's a dream come true."Africentric was down 23-19 at the end of the first half. Their pressure defense forced 19 turnovers, but the Nubians shot a woeful 7-for-32 and the Spartans were deadly when they broke the press and got an open shot.
"I told them at the half to relax and take their time and finish plays," McKinnley said. The well-conditioned Nubians and their relentless pressure wore down the talented Spartans.
"When we execute the (press) well, it all starts working," said guard Leah Morrow. "That's what we do, wear people down."
The Nubians continued to force turnovers, 17 in the second half, finally began to hit their open shots – 13-of-21 in the half – and outscored the Spartans 16-3 in the third quarter to take command. Azubike led the team in scoring with 15, Morrow added 12 and Horston 11.
McKinney said he was beaming with pride at what his team had just accomplished, but was even prouder of the fact that several former players had come back to cheer on the Nubians.
"These kids don't just win state tournaments, they go on to college and graduate," he said, adding, "we're such a tight-knit family and I'm more proud of that than the state titles – the camaraderie and the sisterhood."
The Nubians should make another run in 2017, as all five starters return.
"I'm the happiest girl on Earth," Kim Azubike said, adding that her daughter and several of her teammates are being recruited by colleges in Ohio and beyond.
This means a lot more Nubian players could be coming back to Columbus to play at the Schott, St. John Arena, Capital University and other sites around the city with their college teams. Get ready Africentric parents and community: There's a lot more nerve-wracking action to come.