New National Girls Competition to be Held in Columbus Through 2018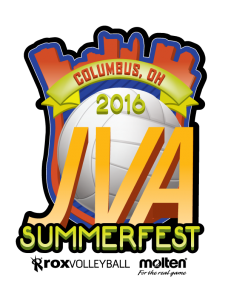 The Junior Volleyball Association (JVA) will host its 1st annual JVA SummerFest in Columbus at the Greater Columbus Convention Center June 4-5, 2016.
This girls' junior volleyball tournament for ages 12-18 expects to bring more than 230 teams and 7,500 players, coaches and fans to Columbus. The teams will compete on close to 35 courts at the convention center and the estimated visitor spending the JVA SummerFest will have for the city is $2.5 million dollars. The tournament will return to Columbus on that same weekend in 2017 and 2018.
"We are excited to bring a quality, high-level junior volleyball experience to the city of Columbus and the Ohio Valley Region," said Zach Colston, Tournament Director for JVA. "It is the perfect central location for the top girls' volleyball clubs from the Midwest and Mideast to compete in preparation for the American Athletic Union (AAU) and/or USA Volleyball national championships in late June."
Tickets are $10 for the weekend and will be available for purchase in Room C110 inside the convention center.
Rox Volleyball will be the official title sponsor for JVA SummerFest. The company will be installing an indoor sand volleyball court and showcasing their Rox-sponsored professional athletes for an exhibition match. JVA will also be hosting collegiate sand coaches and others to conduct clinics, adding a unique aspect as junior athletes and clubs begin their transition into the beach season in June.
"We are thrilled to have the opportunity to host the first-ever JVA SummerFest," said Greater Columbus Sports Commission Executive Director Linda Shetina Logan. "Columbus is incredibly proud of our volleyball community and this tournament will strengthen our reputation as 'the Volleyball Capital of the Midwest.'"
"Over the past 20 years the SMG-managed Greater Columbus Convention Center has hosted more volleyball events than any other venue in the country," said John Page, General Manager of the Greater Columbus Convention Center. "We are delighted to add the JVA SummerFest to that legacy and greatly look forward to hosting this event for the next three years."
The Junior Volleyball Association is a non-profit organization comprised of over 600 girls and boys junior volleyball clubs around the country. The mission of JVA is to promote the growth of youth and junior volleyball through program and resource development, education and events.  For more information on JVA, visit www.jvaonline.org.
The Greater Columbus Sports Commission has established our region as a premier sports destination, hosting more than 350 new sporting events that have generated close to $380 million in visitor spending, while retaining annual events that have generated an additional $250 million to benefit our local economy. For more information, visit columbussports.org.