Columbus produces athletes.
Many know the biggest male athletes to emerge from Central Ohio and hit the big stage. Archie Griffin and Jack Nicklaus come to mind. However on the
50th Anniversary of Title IX
, we're celebrating the female athletes, from professionals to Olympians, who have also called Columbus home and reached the pinnacle of their sports. 
Below is a small sample of the professional athletes with Columbus connections who have soared the peak of their game helped grow women's sports while doing it.
Simone Biles
It is well-known that Simone Biles is the most decorated gymnast of all time, but not many people know she was born in Columbus. The 25-year-old lived in Central Ohio for the first few years of her life before moving to Spring, Texas. Biles is most known for being a two-time Olympian and seven-time Olympic medalist, but she also a big advocate for women and girls in sports and mental health. 
In the fall of 2021, Biles returned to Columbus as part of the "Gold Over America Tour," which celebrated strong female athletes and worked to inspire a new generation of gymnasts. Biles is also a partner of the Women's Sports Foundation, which exists to give women and girls the best opportunities to excel in sports and life. She recently visited the White House, where she became the youngest person to win a Presidential Medal of Freedom. 
Thelma "Tybie" Thall Sommer 
Thelma Thall made a mark on women's sports long before Title IX even existed. She was born in 1924, and in the early 1940's, Thall became the first woman to earn a varsity letter in tennis at East High School before her and her sister, Leah, went on to have monumental careers in another sport.
Thall is the only American woman to have won two world table tennis championships. She was inducted into the United States Table Tennis Association Hall of Fame in 1980. In 2005, Thall received the Table Tennis Lifetime Achievement Award. 
Thall is proof that passion and determination can take you far. She never had a table tennis coach or lesson, but was one of the greats in her sport. The Thall sisters even have a cup named after them, which is given to the winner of the Women's Singles in the U.S. Open Table Tennis Championships.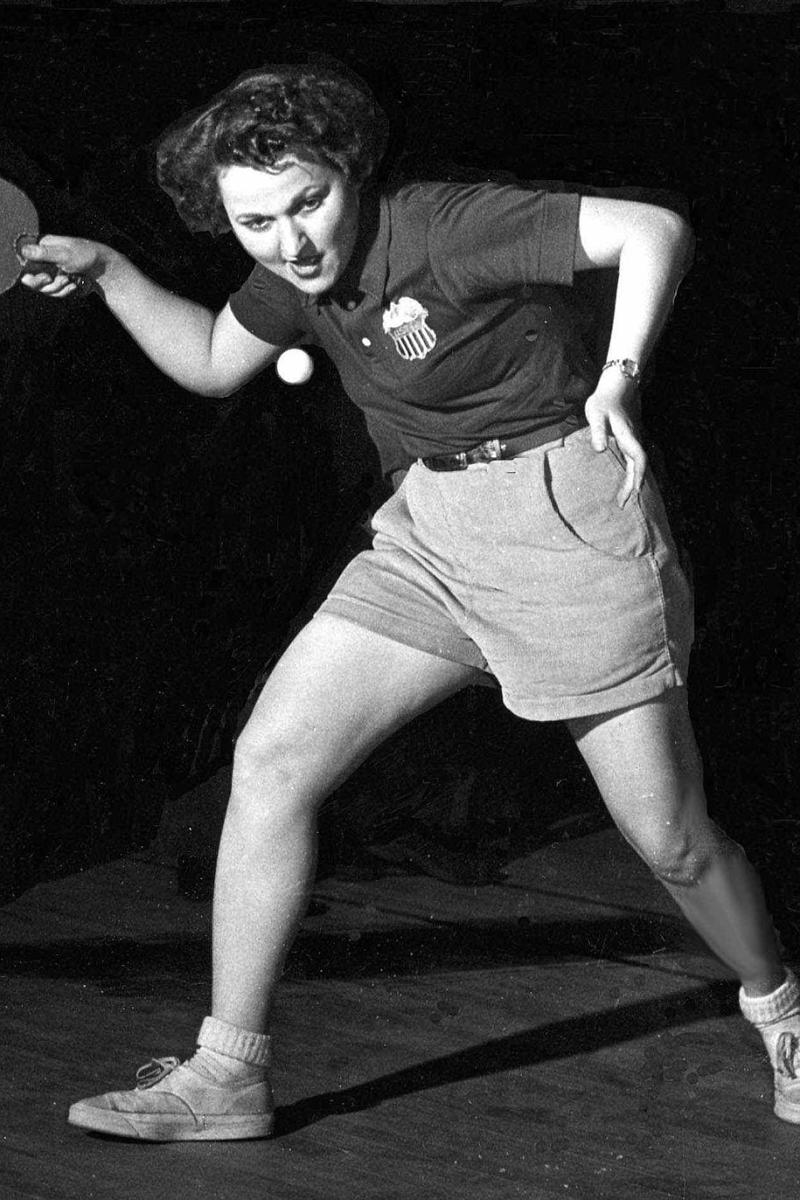 Jincy Dunne
Jincy Dunne wasn't born in Columbus, but spent four years in Central Ohio playing women's hockey at Ohio State. Dunne led the Buckeyes with 26 total points and earned All-Women's Collegiate Hockey Association (WCHA) First Team honors her sophomore year before becoming captain of the team from 2018-2020.
Dunne was a member of the U.S. Women's National Team at the 2022 Winter Olympic games in Beijing, earning a silver medal. She also earned a silver medal at the International Ice Hockey Federation (IIHF) Women's World Championship in 2021. 
Dunne was part of U.S. Women's Hockey "My Why" Tour last fall. It was a chance for Dunne and the rest of the team to share their reason for playing hockey and train for the upcoming Olympics. 
Adelaide Aquilla
Adelaide Aquilla is an Olympian and NCAA shot put champion. Born in Westlake, Ohio, she decided to attend Ohio State to further her academic and athletic career. There, she was named the 2021 Buckeye Female Athlete of the year after setting school records in indoor and outdoor shot put. Earlier that year, Aquilla competed in the 2020 Olympic Games. 
Recently, she broke the collegiate shot-put record at the 2022 NCAA Track and Field Championships, throwing over 64 feet. Aquila recently competed in the World Athletics Championships as part of the USA Track and Field team.  
Want to learn more? Check out this
list
of professional athletes from Columbus or The Ohio State University Athletics
Hall of Fame