Nationwide Arena to Host Top Four Teams as Columbus Looks to Set All-Time Attendance Mark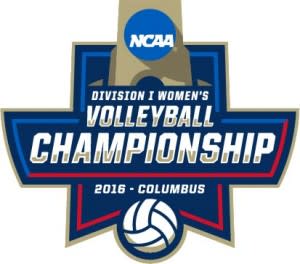 The NCAA Division I Women's Volleyball committee announced Sunday on ESPNU the 64-team field that will compete in the 2016 NCAA Division I Women's Volleyball Championship hosted in Columbus at Nationwide Arena on December 15 and 17.
Thirty-two conferences were awarded an automatic qualification, while the remaining 32 positions were filled with at-large selections to complete the bracket.  The top 16 teams were seeded nationally and placed within four regions.
Per the established bracketing principles the top 16 seeds were provided the opportunity to host. Additionally, team pairings were determined by geographic proximity, with the exception that teams from the same conference were not paired during the first- and second-rounds.
Media members interested in covering the championship event can log on to www.ncaa.com/media and access the credential application via the link under Fall Championships.  Please complete the online registration by Monday, December 12.
Listed below is a tentative schedule of events. The complete schedule will be sent out once the credential application is approved. Additional information regarding the NCAA Women's Volleyball Championship will be emailed out as the event approaches.
NCAA Women's Volleyball- Columbus Community Press Conference
A press conference will be held at Nationwide Arena on Tuesday, December 13 from 2-3 p.m. Dignitaries from NCAA, the City of Columbus and Franklin County and national volleyball community will be on hand to discuss the championship and will be available for interviews. Video footage of the bowl will also be available afterwards.
Pre-Championship Team Press Conferences
Pre-championship game press conferences will be held at Nationwide Arena on Wednesday, December 14 from 12:30-2:45 pm. The head coach and 2-3 student-athletes from all four teams will be made available for interviews.
Open Practices
Teams will conduct open practices on Wednesday, December 14 from 10 a.m.- 4:25 p.m. on the main floor at Nationwide Arena.
Match Times
Semi-finals are set for 7 and 9:30 p.m. ET on Thursday, Dec. 15 on ESPN2. The national championship game will be played at 9 p.m. ET on Saturday, Dec. 17 on ESPN2.
Tickets
Members of the media can purchase tickets to the NCAA Division I Women's Volleyball Championship at www.NCAA.com/Volleyball, at the Nationwide Arena box office or by calling 800-745-3000.  Columbus is in the running to set the all-time attendance record for the Championship with limited lower bowl seating remaining.
Media Hotel
A limited number of rooms are available at the Hilton Columbus Downtown (401 North High Street, Columbus Ohio, 43215). The rate is $139/night plus tax. Please email Sahar Abdur-Rashid with the NCAA for information on how to be included in the media block.
Media Hospitality Lounge
A media hospitality lounge will be available for each of the post-match nights at the Hilton Downtown Columbus on December 15 from 10:00 p.m. – 2:00 a.m. and on December 17 from 11:00 p.m. – 2:00 a.m.
Event Highlights
The 2016 NCAA Division I Women's Volleyball Championship, one of the NCAA's marquee championship events, is headed to the Buckeye State for only the second time in the tournament history. The event was held in Cleveland 20 years ago in 1996.
Nationwide Arena with a capacity of 18,103 will be the largest venue to host this NCAA championship event. Current ticket sales give Columbus a chance at setting the all-time attendance mark.
Columbus is also making NCAA history in becoming the first city to host both the women's and men's NCAA Volleyball Championships in the same academic year. Ohio State will host the National Collegiate Men's Volleyball Championship at St. John Arena May 4-6.
Ohio State Athletics and the Greater Columbus Sports Commission has submitted a bid for the 2021 NCAA Division I Women's Volleyball Championships and will learn if the city is a finalist in early 2017.
The NCAA Division I Women's Volleyball Championship will generate an estimated 10 million dollars in direct visitor spending for Central Ohio from attracting more than 36,000 fans to Nationwide Arena over two nights, with all three matches (semifinals and final rounds) nationally broadcast on ESPN2.
The American Volleyball Coaches Association (AVCA) Annual Convention, attended by 2,500 coaches, and the AVCA UnderArmour All-American match for high-school girls, which will also be nationally broadcast on CBSSports, will be held in conjunction with the event, along with other NCAA ancillary activities. The convention will represent close to 5,000 total room nights alone and utilize more than 90,000 square feet at the Greater Columbus Convention Center for their meetings.