From Jack Nicklaus to LeBron James, Ohio has a reputation for producing some of the nation's most notable athletes.
As the Ohio History Connection would tell you, it's impossible to tell America's sports story without Ohio.
This idea sparked something new for the Ohio History Connection and led to the creation of the Ohio-Champion of Sports exhibit, which w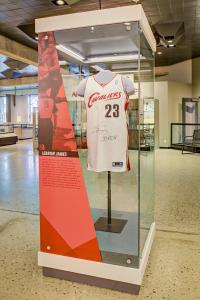 ill be unveiled at the museum on Saturday, March 16.
"Ohio-Champion of Sports is a next generation exhibit for the Ohio History Connection that connects visitors to our state's national sports history in new and modern ways," said Ohio History Connection executive director Burt Logan. "It's unlike anything we've ever done."
As you walk through the three floors of the exhibit, colorful banners display common themes of sports: character, adversity, innovation, identity, tradition and victory. Each section weaves the theme through various points in time, telling human stories that everyone, regardless of being a sports fan, can relate to.
The exhibit will show you a variety of sports, from baseball to skateboarding to e-gaming, and their milestone moments in Ohio over time. In many cases, the exhibit showcases video of athletes sharing their own stories firsthand.
"Our focus was to directly connect the visitor with history makers like boxer Buster Douglas, Cleveland Indians owner Paul Dolan and track star Stephanie Hightower," Logan said. "By giving them the platform to share their stories in their own words, visitors can make a deeper connection to our state's history." 
You may come to see LeBron's original rookie jersey on display but stay for the chance to become part of the exhibit yourself. Interactive moments, where you can record your own victory celebration, share stories of your own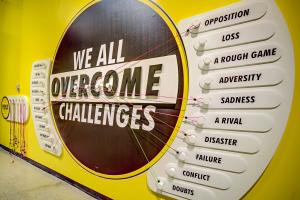 sports injuries or test your shot in front of a wall of basketball hoops, are spread through the experience.
If you ever wanted to get a little closer to your favorite hometown heroes, Ohio-Champion of Sports is your place. As we continue to rally around local sports, premier championship events and standout sports leaders in Columbus, the Sports Commission couldn't be happier to have this collection of historical sports moments in our city. Columbus Has No Offseason, and Ohio-Champion of Sports shows that to be true in the past, present and future.
For more information and tickets to the exhibit, visit the Ohio History Connection website.