When innovators at Rogue Fitness heard the country needed protective equipment for the fight against COVID-19, they realized the Columbus-based strength and conditioning company could play an important role.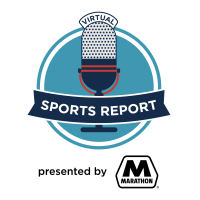 Caity Matter Henniger, chief sales officer for Rogue, explained during the Virtual Sports Report, presented by Marathon, that the company was already facing increased demand for home workout equipment due to social distancing orders, but employees were eager to make a larger impact during the pandemic.
"We got with the Governor's office and asked what we could do… We know that we have a sewing department, we can make anything metal and we have 3D printers," Henniger said.
So they got to work. Rogue began manufacturing face shields and shared the design publicly for others to replicate. After securing additional resources, they ramped up production to total 8,000 face shields a day, providing much needed personal protective equipment to partners like OhioHealth and Ohio State. Their contributions continue as they find the ability to manufacture more needed products, such as powered air-purifying respirators, at their facilities.
The company also hired 200 people to manage the added manufacturing, and began sourcing with other businesses who were affected by the pandemic. Three times a week, Rogue has begun providing meals from Columbus restaurants for all of the company's employees.
"We're really trying to give back to the community, and we love being here in Milo-Grogan and being in the city and just doing what we can to give back to everybody that needs some help," Henniger said.
Rogue has also kept the community in mind regarding its annual event, the Rogue Invitational, this summer. The CrossFit-licensed event, which brings the top 20 athletes in the world to Columbus to compete for a spot in the CrossFit Games, was originally scheduled for May 15-17 at Rogue HQ. With COVID-19 threatening the safety of spectators and athletes from around the world, Rogue had to pivot.
"We have turned that competition into a virtual competition," Henniger explained. "So we're going to take the top 20 men and women and we're going to livestream that."
The Rogue Invitational will still bring together competitors from across the globe, just via video streaming, on June 13-14. While a virtual event creates its own challenges, the Rogue team is certainly prepared to adapt for the safety of the community.
"There's times when people are helping us, and it's our time to help others," Henniger said. "I think it's been really fun to watch everyone communicate and come together, regardless of if you're competitors or if you're in a different industry, and innovate and help out when we can."
The Virtual Sports Report, presented by Marathon, returns each Thursday at 11 a.m. for a conversation offering an inside look at Columbus teams and sports professionals. You can learn more and register for free here.