---
Public Lands, a new store at Polaris, wants to help everyone experience the great outdoors. Walking through the doors, you're greeted with a warm fireplace to your left and a 30' climbing wall straight ahead. Look up and you'll see their purpose – "to celebrate and protect public lands for all." Look around and you'll see anything and everything you'd ever need to explore the 640 million acres of US public lands in a way that's good for you, and for them. The core themes of access & equity, sustainability and conservation are evident throughout in the brands they carry and products they sell.
For All For Real
It's one thing to say you welcome everyone from amateurs to experts -- it's another thing to pull it off. Want to take a walk in the woods? You'll find entry level items from house brand Alpine and other trusted manufacturers. Or if you're trying to Walk in the Woods like Bill Bryson, you can take a class to prep and connect with a guide (that's what they call their staff) to get set up for any adventure. If you want to do it yourself, nearly every section has how-to-decide signage to help you pick the best gear for your quest.
As one guide put it when we were discussing the differences between a $50 and $2,500 pair of binoculars, "Regardless of what you're doing, we can cover you here."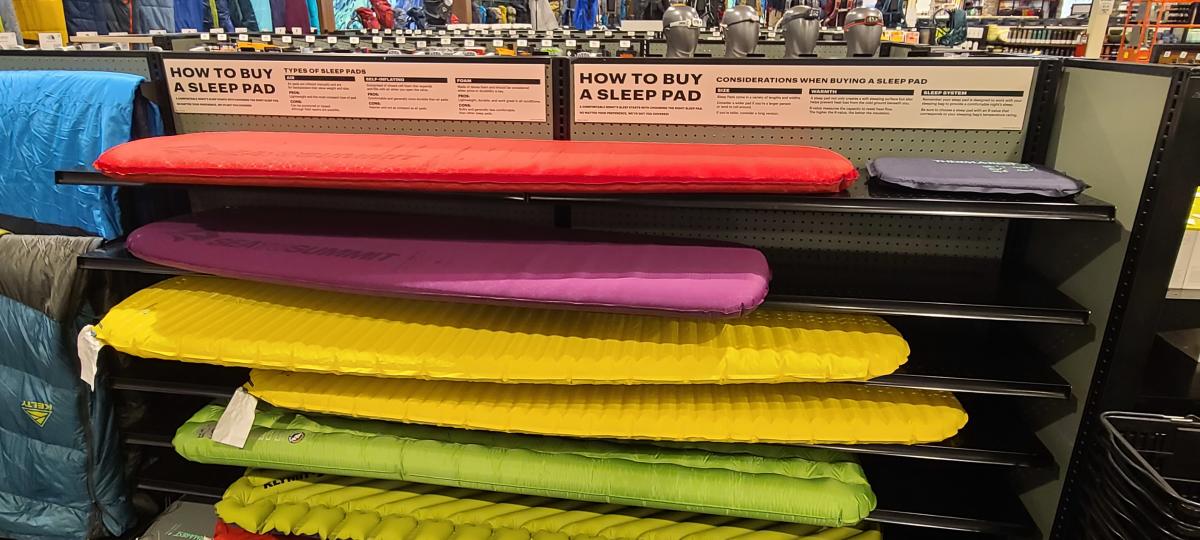 Yeah, They've Got It
There's a section dedicated to every outdoor pursuit you can imagine. Fishing, biking, hiking, climbing, paddling, camping, drinking, eating, cooking… if it happens outside, you can buy it at Public Lands. They even have women's sleeping bags. You're probably thinking what's a women's sleeping bag? We had the same question and learned they're cut a little wider at the hips and have extra insulation at the feet. You can rent gear like paddleboards or bikes and get yours repaired in-store, too.
Local Connections
Though most of those 640 million public land acres in the U.S. is outside of Ohio, there are local touches throughout the store. Huge photos from Hocking Hills decorate the walls and many guides are familiar with local fishing spots, trails and more. There's a section next to the climbing wall stocked with products from local businesses like Roosevelt Coffeehouse. Plus, 1% of sales are donated to local organizations like the Arc of Appalachia, Project Learning Tree and Friends of Columbus and Franklin County Metro Parks.
Weekend Kickoff
Public Lands welcomes you to the outdoors with a grand opening this weekend November 5-7. Check out the space, jam out to live music, play games, test equipment and chat with experts. Like the store, there's too much going on to describe in just one blog, so peep the full schedule here.