There's no doubt that Ohio State game day will feel different this year, but that doesn't mean your Saturday watch party will be a loss.  
With the traditional tailgate absent from game day this season, the at-home tailgate is ready to shine. Gathering in small groups is going to be a key to the games this season in order to slow the spread and keep the Columbus community safe. With the help of a few gameday enhancements from partners in the city, you can have an at-home tailgate that rivals the experience at Ohio Stadium.
So get your cornhole boards set up, get ready to don your jersey and check out the suggestions below for creating the perfect at-home tailgate.
Scarlet Saturday with Ohio State Athletics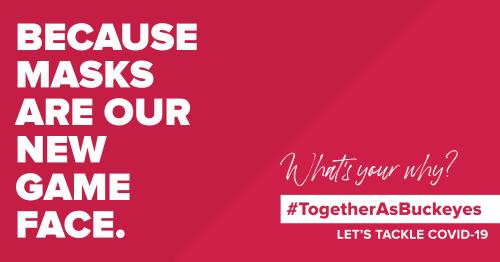 As football season ramps up, the Ohio State community is focused on keeping Buckeye fans, campus and the community safe while celebrating game day. The university has launched the "What's Your Why?" campaign, encouraging students and fans to consider why following safety protocols is important to them.
Ohio State Athletics is creating a fan safety opportunity with Scarlet Saturday, a live-streamed second-screen experience from inside The Shoe to entertain fans at home. Tune into a live stream of the game, join the Buckeye Zoom Room with fellow fans, or even upload your at-home tailgate cheers to be shown on the Ohio Stadium video board during the game. Check out the Ohio State Athletics website for more opportunities that show great game days can be spent at home.
Cameron Mitchell Premier Events Fan Experience Menu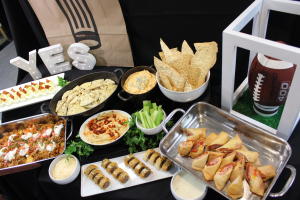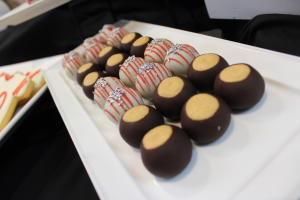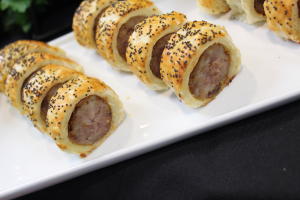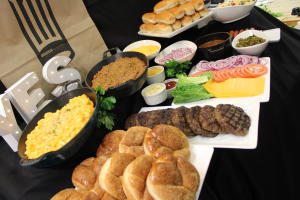 Even when watching away from the stadium, Tailgate Packages from Cameron Mitchell Premier Events will keep you in the game. Cameron Mitchell's Fan Experience Menu offers four different packages, as well as a la carte and dessert items, that are ready-to-serve for up to 10 guests. Standout items include:
The Grill Tailgate Package #1 – Mini chili cheese hot dogs, hand-pattied ground beef burgers, short rib baked beans, mac 'n cheese and garden pasta salad
The Night Game Package – Classic deviled eggs, shredded pork nachos, Mediterranean-style hummus and sesame pita, buffalo chicken dip with tortilla chips and celery, brat bites and Italian egg rolls
Desserts – Custom team-inspired cake pops, in double chocolate cake or vanilla buttercream, Chocolate truffles and classic hand rolled and chocolate-dipped buckeyes
Check out the entire spread available for pick-up and delivery on Cameron Mitchell's website.
Greater Columbus Convention Center Take-Home Tailgate Boxes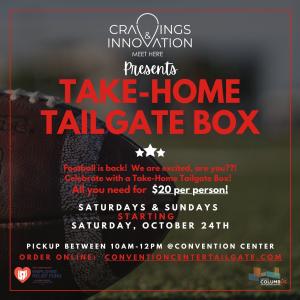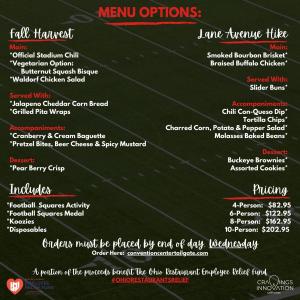 The Greater Columbus Convention Center's Take-Home Tailgate Box is back just in time for college football in Columbus. Menu options include the Fall Harvest package, complete with items like chicken salad and grilled pita wraps, and the Lane Avenue Hike package that offers smoke bourbon brisket, buffalo chicken and chili con-queso dip. Each package includes koozies and a football squares group activity to add a little pep to your celebration.
A portion of the packages' proceeds benefit The Ohio Restaurant Employee Relief Fund, so you can feel good about giving back with your tailgate meal. The boxes will be available for pickup on Saturdays and Sundays starting Oct. 24. Check out conventioncentertailgate.com to order.
Carryout Options from Local Favorite Restaurants
Game day is also the perfect time to support your favorite local restaurants. We've compiled a list of top the carryout options to pair with Columbus sports that includes everything from classic sports bars to delicious desserts. You may also want to honor the hometown team with a Columbus-style pizza from a signature pizzeria in your Columbus neighborhood.
If you do choose to get out of the house for the game, there are a number of local businesses offering socially distanced events and safe dining experiences on game day. Read our suggestions for where to safely watch Ohio State Football this season or find a local business that has signed the Live Forward Pledge for more ideas.
No matter how you choose to celebrate, be safe and go Bucks!