COVID-19 has halted annual sports traditions around the world, but Dan Sullivan, executive director of the Memorial Tournament presented by Nationwide, is doing all he can to have the beloved PGA Tour stop hosted safely in Columbus. 
Sullivan, who is also the president of HNS Sports Group and board chair of the Greater Columbus Sports Commission, joined the Virtual Sports Report, presented by Marathon, to give updates about the pandemic's effect on golf and help fans understand the changes to the Memorial Tournament that will aim to keep everyone involved safe.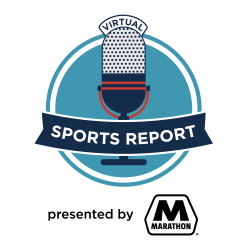 The tournament, held at Muirfield Village Golf Club each year since 1976, honors legends of golf while also giving charitable contributions to beneficiaries such as Nationwide Children's Hospital.  
"We had the option to cancel, but we want to keep on going because we think the Memorial is worth being on the PGA Tour schedule," Sullivan said. 
Originally scheduled to begin on June 1, the pandemic has already forced the Memorial Tournament to be pushed back to July 13. Sullivan said the goal is to have fans attend and socially distance across the 9 million square feet of landscape, but the event will also feature extra precautionary measures, including masks, hand sanitizers and the removal of bleachers for fans. 
"We're looking at every aspect to make sure that when someone comes up on the property, they feel comfortable, whether they come with their family and they stay as a unit on the golf course or they come individually and just want to sit on the grass and watch golf where it's comfortable," he said.   
Sullivan said his team has already been working alongside health officials from the city, county and state, as well as political and business leaders, to identify best practices. But the team will also take notes from five PGA Tour stops that will be held in the weeks prior to the Memorial.  
"We're learning every single day and paying attention to what others are doing, and hopefully we're going to come up with a plan that makes sense," Sullivan said. 
Although the tournament will certainly look different this year, Sullivan sees it as an opportunity to show the nation the power of sports and community to persevere through the pandemic.  
"We're going to be able to tell our story outside of Ohio," Sullivan said. "This could be a chance for Ohio to [show] we're getting back in the right way and golf is a nice environment to enjoy each other's company… We'll be able to continue to give back to Nationwide Children's Hospital and other charities, and that's our motivation every day." 
The Virtual Sports Report, presented by Marathon, returns on Thursday at 11 a.m. for a conversation that offers an inside look at Columbus teams and sports professionals. You can learn more and register for free here.