While the team is away from the ice during COVID-19, the Columbus Blue Jackets organization, from front office to fourth line, is furthering its focus on community engagement and philanthropy.
Blue Jackets captain Nick Foligno and chief marketing officer Kathryn Dobbs joined the Virtual Sports Report, presented by Marathon, to talk about how the players, coaches and staff have handled working together through the halt of the NHL season.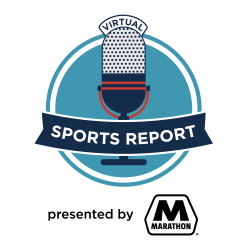 "We go from seeing each other every single day, and when this happens it's like an abrupt end to the season," Foligno said. "I think navigating through that was hard."
Although the pandemic's impact on hockey was sudden, the Blue Jackets organization wasted no time adapting to help fans, and each other, through the uncertain time. Foligno spoke on bringing the team together for FaceTime calls and offering support for his teammates' mental health. For Dobbs, the pause meant establishing how the team could entertain, engage and stay connected with the community.
"It's really important to us that people know how much we appreciate them," Dobbs said. "Letting everyone know at this point that we're all in this together."
Players, including Foligno, have offered personalized video messages to frontline workers to boost morale. The organization also launched an online auction of team apparel and collectibles to support local nonprofit organizations.
"Giving back has been an important part of who we are since our inception," Dobbs said. "This of course is just an opportunity for us to get out there."
For Foligno, the pandemic has forced hockey to take a back seat but presented opportunities to reciprocate the support that Columbus fans give to the team on the ice.
"We're all residents of Columbus. We're all part of this community," Foligno said. "So we're trying to make sure people realize we want to support and help if we can."
The team is following the lead of the league when it comes to a timeline for resuming play, but Dobbs acknowledged proposed plans for Columbus as a hub city.
"Of course we know we have a great city, we have great facilities, we do a bang-up job," she said. "We absolutely do everything we can to support the league should we go down that road, but right now it's a wait and see."
In the meantime, the organization is focused on supporting the community in all aspects and finding elements of quarantine to be thankful for.
"One complaint I think we always have as athletes is that we don't get to spend enough time with our families. I'm really enjoying that," Foligno said. "Obviously, I'm just monitoring what's going on in the world and thinking of everyone that's helping us right now on the front lines."
You can watch the recorded episode and register for free for upcoming Virtual Sports Report episodes here.