The second episode of the Virtual Sports Report, presented by Marathon, brought black and gold to screens across the city as Columbus Crew SC executives spoke about how the team has shifted its focus to lend a helping hand during COVID-19.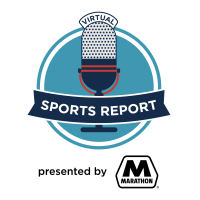 Tim Bezbatchenko, president and general manager, and Steve Lyons, executive vice president and chief business officer, joined the Sports Commission's Linda Logan for a discussion on the team's handling of the pandemic and forging a connecting with fans during uncertain times.
Since suspending the season in March, the Crew has focused not only on helping its players through the pandemic, but also the Columbus community it calls home.
"The more we can provide content that keeps people and their mood elevators high…it's an important part of the process as we move from where we are today to the point in time where this is behind us," Lyons said.
The Crew played just two games in early March before the league halted play and players returned home to follow the same stay-at-home orders as the public. Bezbatchenko said that keeping the players conditioned physically has been a priority. The team has shipped workout equipment to players and directed its sports science department to adapt to new conditions to aid players.
But he notes that taking care of the team goes beyond fitness.
"There's also the mental side of the game and making sure that players are cared for," he said. Bezbatchenko acknowledged the added emotional toll of quarantine on players who are new to the region or going through life changes with newborn children.
"The players are in the same situation [as us] in many ways, and the challenge that we have is how we make sure we continue with team unity, togetherness, chemistry that we feel like we built in preseason and in the first two games," Bezbatchenko said. "[We look at] how we pick that up or continue that during this period."
Lyons said that care and consideration from the team extends beyond the players. The team has bolstered its offerings to the community during the pandemic, creating content like at-home workouts from a team strength and conditioning coach, a public 30-day step challenge and video messages from players and their families.
"I think part of this is motivated not just by connecting with our fans, but recognizing sports plays an important role in how our community heals," Lyons said.
He said the entire league has shifted focus to caring for each other and boosting morale as a result.
"It's important to just help be a part of how we can fill a void that is out there in people's lives," Lyons said. "Sports is the ultimate uniter. We think soccer plays an important role in that, not just in Columbus, but throughout the league."
The Virtual Sports Report, presented by Marathon, returns each Thursday at 11 a.m. for a conversation offering an inside look at Columbus teams and sports professionals. You can learn more and register for free here.