Columbus Has No Offseason is an ongoing blog series from the Sports Commission, showcasing Columbus' role as a top sports destination, from our hometown teams to the premier sports events we bring to the city.
---
As we learned last year when the community rallied to host a landmark NCAA Women's Final Four, our city loves meaningful March basketball.
Well, get ready to rally again, because Columbus is a hoops heaven this month, welcoming four high-profile basketball events.
During three weeks in March, Columbus will host the NCAA Division I Men's Basketball First and Second Rounds for the fifth time, the NCAA Division II Women's Basketball Elite Eight for the second time in two years and the Ohio High School Athletic Association (OHSAA) Girls and Boys Basketball State Tournaments, bringing some of the brightest young basketball stars to Columbus.
Action kicks off Thursday, March 14, as the top girls basketball players in the state arrive at Ohio State's Schottenstein Center for the OHSAA Girls State Basketball Tournament. The boys get their turn just a week later when the boys state tournament takes over the same site.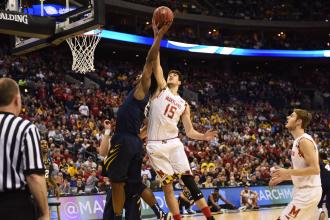 OHSAA has hosted its boys and girls basketball state tournaments in Columbus for over 30 consecutive years, but the "Road to Columbus" remains equally as exciting for the high school student athletes.
"We are extremely blessed to have a dedicated city that takes pride in bringing tens of thousands of individuals all across the state to Columbus," said OHSAA commissioner Jerry Snodgrass. "The 'Journey to Columbus' is a two-way street – the dedication of the city rolls out the red carpet for the players. We are all thankful for the efforts to make their time in Columbus into memories that last a lifetime."
Across the city from the boys state tournament, the NCAA Division I Men's Basketball First and Second Rounds will be igniting Nationwide Arena on March 22-24. Sold-out crowds flocked to the arena to see some memorable moments the previous four times the tournament rolled through Columbus, and we know this March Madness has the potential to be just as exciting.
"Nationwide Arena is thrilled to have March Madness return to the Arena District!" said Nationwide Arena general manager Mike Gatto. "We are proud to host such a prestigious event and are excited for the energy that NCAA Basketball brings to Columbus."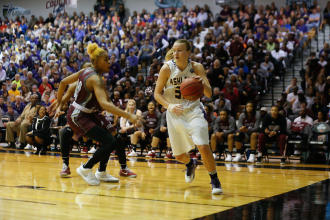 College hoops fans can continue the excitement March 26-29 when eight DII teams will battle for a title at Ohio Dominican University's Alumni Hall. Columbus hosted the NCAA Division II Elite Eight in 2017 in front of a packed house who watched Ohio's own Ashland University take home a trophy. The 2017 event made an impression, with the NCAA then deciding to return to Columbus for both 2019 and 2021 championships.
"Hosting the NCAA Division II Women's Basketball Elite Eight in 2017 was a tremendous experience for Ohio Dominican University," said Ohio Dominican University women's basketball head coach Lynsey Warren. "Ohio has a rich history of girls basketball and it is important to showcase Division II women's basketball at the highest level to our state and local community."
All four events will bring players, coaches and fans to our vibrant city for the chance to cheer their teams to victory. There's no better time to prove that Columbus is a sports city! You can grab your tickets here for the NCAA Division I Men's Basketball First and Second Rounds, and here for the NCAA Division II Elite Eight. Ticket information for the OHSAA Boys and Girls Basketball State Tournaments can be found here.
Suit up, Columbus, and get ready for plenty of hoops this month!