Columbus has become a sports hub; the host of a never-ending series of local, national and even international sporting events that have helped change the perception of the city and drive economic and social development forward. In honor of the Sports Commission's 20th Anniversary, take a look at Part 2 of 20 Moments in 20 Years of Columbus Sports. Read Part 1 here.  
Note: Moments are listed in chronological order
Men's U.S. Senior Open (2016)
When the PGA Championship was held at Scioto Country Club in 1950, 10-year-old Jack Nicklaus attended and got autographs from Sam Snead and Lloyd Mangrum. Skip ahead 66 years and Nicklaus helped host the prestigious U.S. Senior Open at Scioto, the course where the Golden Bear learned how to play the game he would soon dominate. The tournament was won in dramatic fashion by Gene Sauers, who holed a seven-foot putt on the final hole of the rain-delayed and rain-shortened tournament to beat Miguel Angel Jimenez by a stroke. The tournament also featured several former Ohio State players, including Joey Sindelar and John Cook, members of the Buckeyes team that won the 1979 NCAA championship.
Real Madrid vs. Paris St. Germain (2016)
A crowd of 86,641, the largest to ever see a soccer game in Columbus, filled the Shoe to watch two of the world's best club teams play. Paris St. German (France) topped Real Madrid (Spain) 3-1. According to the Columbus Dispatch: "Drawing so many fans to a soccer game with a concert down the street at the Schottenstein Center and the state fair underway is amazing."
NCAA Women's Final Four (2018)
This was one of the most exciting Final Fours (men's or women's) ever, as Notre Dame's
Arike Ogunbowale
hit a buzzer-beating, three-pointer to lead Notre Dame past perennial champion Connecticut in the semifinals; and then hit an even tougher, off-balance, leaning, buzzer-beating three for a 61-58 win over Mississippi State and the title. This was the first time the Women's Final Four has been held in Columbus and two sellout crowds, totaling 39,123 watched the three games. "This year's Women's Final Four was a remarkable event for the entire women's basketball community, and especially for college basketball fans," said Lynn Holzman, NCAA vice president of women's basketball. "I am proud of my home state of Ohio for its support of women's basketball and grateful to the Columbus Local Organizing Committee for its partnership in making this experience special for our student-athletes and coaches."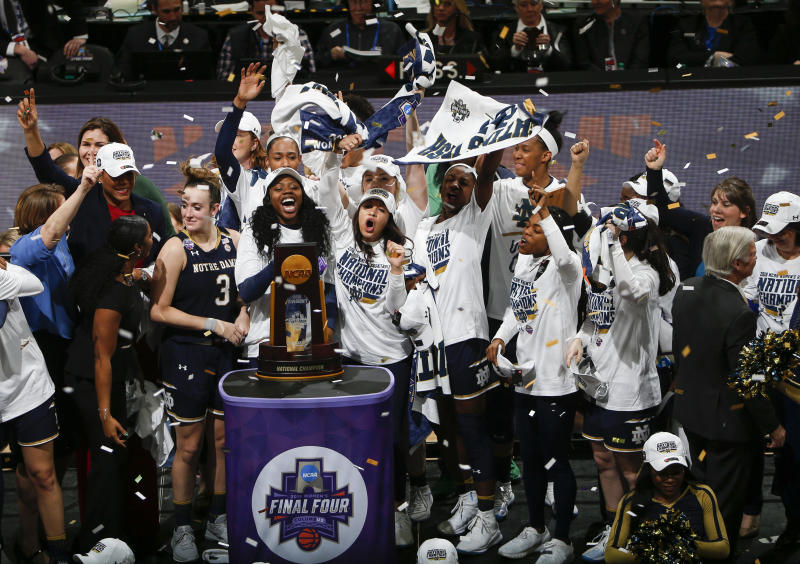 2019 USA Fencing Summer Nationals
As it has with volleyball, Columbus has also become a hot spot for fencing competitions. This success led to the USA Fencing National Championships and July Challenge, which featured more than 5,400 athletes, ranging in age from seven to 85, competing in all three of the sport's disciplines: epee, foil and saber.
Take a look
at some of the action.
Blue Jackets Sweep Lightning (2019)
In one of the greatest upsets in NHL history, the Blue Jackets swept the Tampa Bay Lightning in four games to advance to the second round of the Stanley Cup Playoffs. The Blue Jackets, who had never before won a playoff series, were the eighth seed, while the Lightning won the Presidents' Trophy with 128 points and tied the league record for most wins in a season (62). They seemed unstoppable, especially after taking a 3-0 lead in Game 1. And then, the Blue Jackets came to life, scoring four unanswered goals to win Game 1. Columbus won the second game 5-0, and then returned home beat the Lightning 3-1 and 7-3 to complete the upset. And then: Boston beat the Blue Jackets in six games. As for Tampa Bay, the team won the 2020 and 2021 Stanley Cups.
Crew Wins Second Title (2020)
It was the final playoff game in historic Crew Stadium, which opened in 1999 as the first soccer-specific MLS stadium. And what a way to say goodbye, especially after the team had almost been hijacked to Austin, Texas, only to be rescued by the Save the Crew Movement and new owners Dee and Jimmy Haslam and Pete Edwards. The Crew, minus two starters who tested positive for COVID, applied plenty of pressure early, dominated and won 3-0 on goals by Lucas Zelarayen (two) and Derrick Etienne Jr. This was the team's second MLS title; the first was in 2008.
NCAA DI Women's Volleyball Championship (2021)
Volleyball just keeps getting bigger and more exciting in Columbus. Nationwide Arena hosted the 2021 NCAA D1 Women's National Championship. Wisconsin beat Nebraska before a record-setting crowd of 18,755 volleyball fans. More than 1.2 million viewers tuned in on ESPN, making this one of the network's most-viewed volleyball matches.
The Basketball Tournament (2021)
This 24-team, single-elimination tournament, for a winner-take-all prize of $1 million, was one of the first tests of the COVIB "bubble" concept for a sports event. Its success set the stage and example for the NBA Finals at the Disney World campus. The 23 games of the tournament, from July 4 to 14, a made-for television event, were played under strict quarantine rules, with meant no fans in the stands at Nationwide Arena. Carmen's Crew, a team of former Ohio State players (Aaron Craft, William Buford, Jon Diebler), and the defending champions, did not make it back to the championship game, which was won by the Golden Eagles (former Marquette players).
Lower.com Field Opens (2021)
The sleek, modernistic Lower.com Field hosted its first Crew game on July 3, 2021, a 2-2 draw with the New England Revolution. A sellout crowd of just over 20,000 attended. This completed the trifecta of world-class sports venues in the Arena District, with Nationwide Arena, Huntington Park and the new soccer stadium all located within a half-mile stretch of Nationwide Boulevard. Lower.com Field features a huge roof canopy that covers every seat, a 3,364-seat Nordecke section for these most-passionate of Crew fans, plus a beer garden and pub.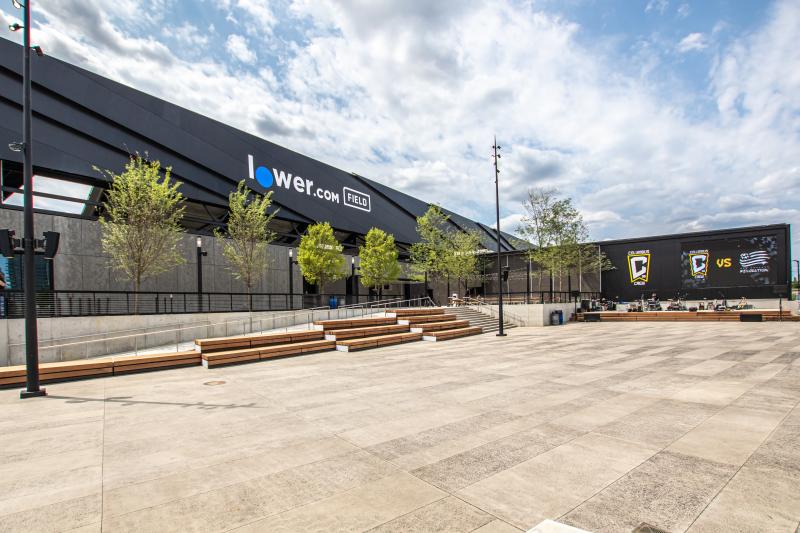 Gay Softball World Series (2021)
Columbus became the first city to host the North American Gay Amateur Athletic Alliance (NAGAAA) Gay Softball World Series for a third time. This is a huge event, as 230 teams from 47 North American cities journeyed to Columbus for the five-day tournament. The economic impact was $12 million to $14 million. Not many cities have a facility that can host such a huge softball event, but Columbus is fortunate to have yet another world-class sports venue: Lou Berliner Sports Park, which has 31 great diamonds.
Read
Part 1
of
20 Moments in 20 Years of Columbus Sports
To learn about what the Greater Columbus Sports Commission does, visit the About Us page.