Visiting Lower.com Field: What to do, how to prepare and the ins and outs of the new stadium
In 1999, the Columbus Crew, an MLS Original Team, began playing at the first soccer specific stadium in the history of America's top division. Then, in 2021, they became the first top-flight team to have two when Lower.com Field opened in Columbus, Ohio's Arena District. With the new stadium brings excitement, a vibrancy to the city and a list of new experiences for anyone attending an event in downtown. Here's what you need to know, for Crew supporters and rival fans alike.
GETTING THERE
The most obvious item of note is the stadium's location. While the previous venue, now known as Historic Crew Stadium, was a fortress for the Black & Gold and United States soccer for 22 years, there wasn't much to do around the stadium beyond a strong tailgate scene.
When visiting Lower.com Field, take care of parking early to ensure a stress-free experience. There are 16 nearby parking structures, and you can snag a spot online at this link. If your goal is an immersive Downtown Columbus experience, even the furthest lots feature ample shade for a summer walk to the stadium.
For those planning on getting there early and staying in Columbus for a while, there's no shortage of options to keep yourself entertained, your stomach full and your brain engaged.
EAT, DRINK AND BE MASSIVE
If you want to get to know the diversity of Ohio's capital city, and need to eat after a long drive, the North Market has anything you want and plenty you didn't know you want. Open from 9 a.m. to 7 p.m. ET Tuesday through Saturday (10 a.m. to 5 p.m. on Sunday and Monday), the North Market houses over 30 vendors with food you can eat there or walk to Goodale Park or McFerson Commons to dine al fresco.
Cuisine diversity is a priority there. You can order Somali cuisine from Hoya's Kitchen, fill up on pierogi at Hubert's Polish Kitchen get burgers, featuring a full gluten free menu, at Preston's. Probably not all three at once or you'll be moving slow. A walk through the market can teach you a lot about the city in one visit.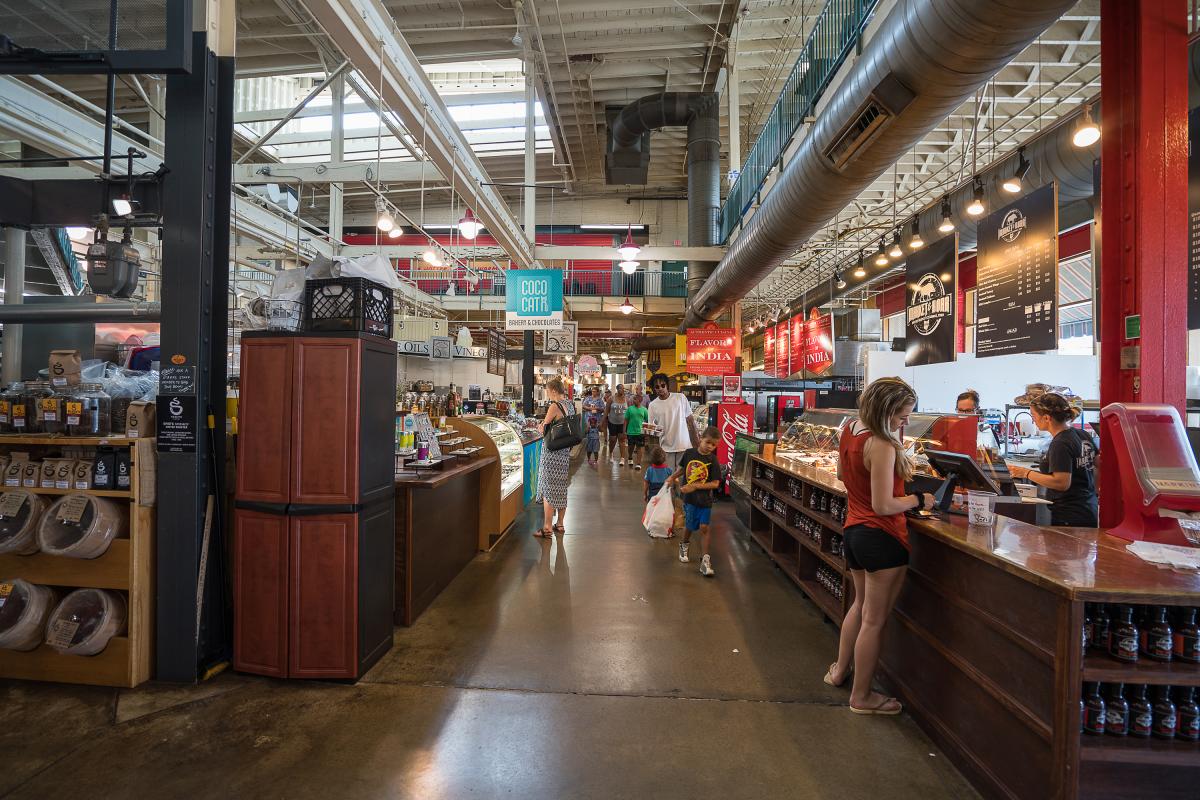 The Arena District is packed with bars and restaurants that will likely be full of black and gold apparel. Meet up with Crew supporters at the Nordecke Block Party in front of Nationwide Arena. The Nordecke is a Columbus Crew supporters' group, who will also be the ones standing and singing at the north end of Lower.com Field.
The block party is in the shaded Battelle Plaza, where fans can buy gear from Supporters' Supply's tent or grab a drink at the Whiskey and Keg. In past matches, visiting supporters from each team have met up here. It's a laid-back environment but you might have some friendly comments come your way if you're donning the other team's colors, especially blue and orange.
Nationwide Boulevard is home to three stadiums and much of it becomes a DORA on match days, allowing for alcoholic drinks to be consumed outside of bars and restaurants. Luckily it stretches from Nationwide Arena all the way down to Lower.com Field. Click here for a full map.
Between the Battelle Plaza and the match are other quicker and sit-down eating options. If you want to see some history on the way, stop at McFerson Commons, a green space that features a beautiful arch designed in 1893 that used to be at the since torn down Columbus Union Station. It towers over you as you march to the match, and it's worth a stop.
MATCH TIME
As kickoff approaches, listen for the work whistle at Lower.com Field and watch for a plume of yellow smoke coming out of the Crew smokestack (you can't miss it) and make the three-quarter mile walk from Battelle Plaza to the state-of-the-art stadium. During the walk you'll also see Huntington Park, home of the AAA Columbus Clippers. If you time your trip right, you can even watch a bit of the ballgame on your way to the stadium, from outfield viewing windows on Nationwide Boulevard.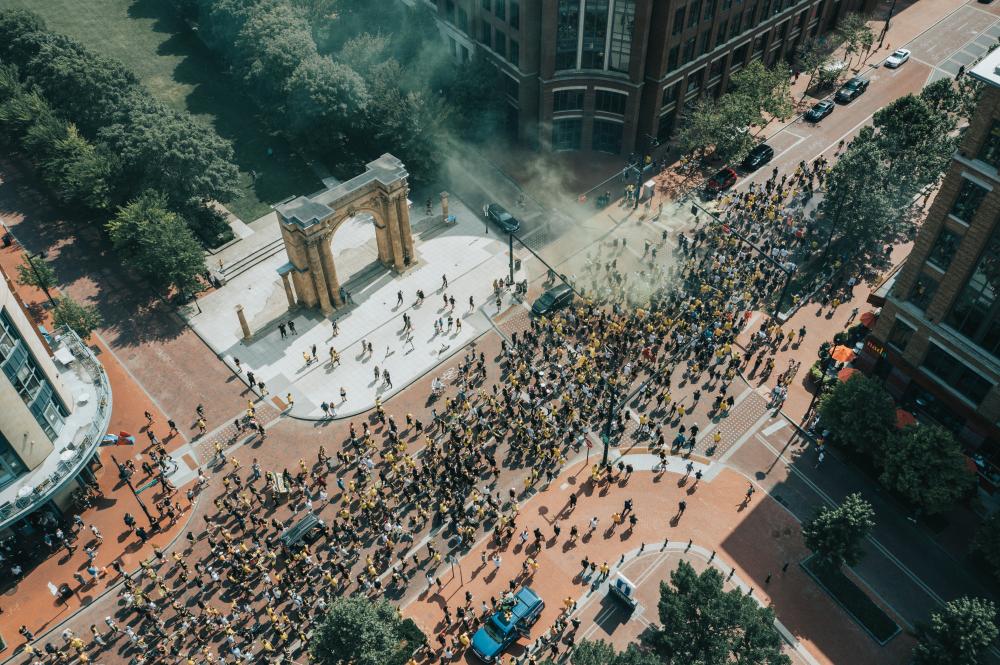 If you decided to wait until the match to eat, that's fine too. Ticket scanners make for a quick entry into the stadium. Head to the 62,000 square feet plaza on the southeast corner of the stadium for pre-match activities or walk through the concourse for food and drinks from local vendors like Land Grant Brewing and Hot Chicken Takeover. Click here for a full list of vendors.
EXTRA TIME
Visiting the Arena District is one way to experience a match in Columbus. If you decide to make it an entire weekend, Columbus is full of museums like COSI, a family-friendly science museum, the National Veterans Memorial and Museum or see Historic Crew Stadium when you visit the Ohio History Center, just north of downtown.
No matter what you're trying to get out of your soccer trip to Columbus, just make sure you bring your voices and enjoy everything the city has to offer.