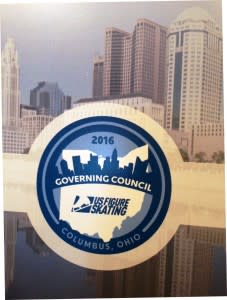 Columbus is Sam Auxier's kind of skating town.
"I love this city," said Auxier, President of U.S. Figure Skating. He was in town, through Sunday, for the organization's Governing Council Meeting, which was held at the Hilton Columbus Downtown.
About 400 members of U.S. Figure Skating were here for the meeting.
Auxier is also a principle with Deloitte & Touche LLP in Chicago, and often comes to Columbus on business trips. "It's so easy to get Downtown from the airport, there are so many great restaurants and hotels," he said. "Columbus has a big-city feel without the overwhelming size of a New York or Chicago."
Auxier also loved the area's growing figure skating community and believes the city could one day host the U.S. Figure Skating Championships or Skate America.
"Definitely," he said. "This could be a new market for us, with a great arena (Nationwide) and a growing population and lots of families. It's a perfect market for us."
U.S. Figure Skating has about 600 clubs located across the country and more than 176,000 members. There are two clubs here: Columbus Figure Skating Club (CFSC) and Skating Club of Central Ohio (SCCO).
"We've been around over 50 years, based out of the ice rink at Ohio State," said Jennifer Beck of CFSK. "Fifty years ago there was only one ice rink (in Central Ohio)."
Now there are several, including the three OhioHealth Chiller ice rinks the SCCO calls home.
"We start with the Learn to Skate Program (of U.S. Figure Skating) and go from there," said Andrea Giovanello of SCCO, adding that Synchronized Skating – a team competition – has taken off at the club.
Lots of kids – and more girls than boys – begin skating "as young as three or four, but five to seven is more typical," said Auxier, who began skating when he was seven and advanced to the national level. He was a judge at the 2014 Olympics.
"It's a fun activity and we're attracting a lot of new people," Auxiere said. Newer events such as Synchronized Skating, Ice Dancing and Theater on Ice have helped expand the sport in terms of the number of people participating, and the number who attend live events and watch on television, he said.
The Governing Council meeting included non-stop presentations and panels, from Thursday morning to Sunday morning.
"We're learning all the things that go with running a club or an event," Giovanello said.
Meeting topics included: social media, strategic projects, Learn to Skate USA, budget review and meetings of the organization's Eastern, Midwest and Pacific Coast regions. U.S. Figure Skating is a local, regional and national organization whose top athletes compete internationally.
"The Hilton is perfect for us because of the great location and there's enough meeting space for our entire group, which means we're all close to one another," Auxier said.
Beck and Giovanello both got involved with their local clubs after their daughters took up figure skating.
"A lot of parents wind up getting very involved," Giovanello said. "And it's because you watch them practice for hours and hours, and see how much work it takes to perfect one simple move. And you get so much respect for what they do."