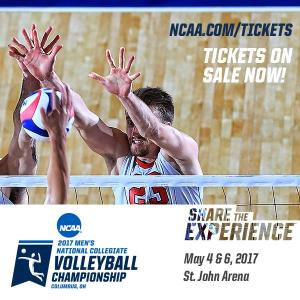 Something magical is happening at St. John Arena.
The Ohio State men's volleyball team is undefeated and riding a 36-match winning streak. The Buckeyes are ranked No. 1 in the nation, are the defending national champions and feature two of the premier players in the country: Nicolas Szerszen (the 2016 American Volleyball Coaches Association Player of the Year and All America First Team) and Miles Johnson (an AVCA All America First Team and 2016 NCAA Tournament MVP).
"The stars lined up for us (in 2016)," said veteran coach Pete Hanson. "Last year was what I was hoping happened this year. It all came together."
But wait, here's some more magic: Ohio State is hosting the 2017 National Collegiate Men's Volleyball Finals (May 4 to 6 at St. John). Let's not get ahead of ourselves, or jinx of the Buckeyes, but they are No. 1, have beaten several Top 10 teams and have a great shot at making it to the finals here in Columbus. Here's info on tickets for the Finals.
There's more good news for local volleyball fans: Between now and May, the Buckeyes – and St. John – will host several of the best teams in the country. And: admission and parking are always free for home matches. What are you waiting for? Here's the schedule.
About 1,600 people came out to watch the Buckeyes take on No. 10 Loyola on Saturday, filling the lower sections of St. John with a lot of excited and loud fans, including lots of kids. Ohio State won in straight sets, led by four-year starters Johnson, Driss Guessous, Christy Blough and Gabirel Domecus, as well as Szerszen, a junior from France via Poland.
Men's college volleyball is a power sport, filled with tall, strong and athletic players. The action is fast and furious.
"At the end of the day, it's not just whether you're big and physical, but you have to be skilled," Hanson said. "You still need special skills and that's what we have right now."
His four senior leaders came to Ohio State "without big volleyball resumes, but trained and worked and enhanced their skills and improved," Hanson said, adding they took their lumps as freshmen (Ohio State finished the season 11-16). "The guy who added the extra element we didn't have was Nick (Szerszen)."
Szerszen and Johnson are quite the dynamic duo. Johnson is dominant at the net and Szerszen is dominant, well, all over the court. Add in Guessous, Blough, Domecus and several young, up-and-comers and you have a No. 1 team.
How are the Buckeyes dealing with the pressure of being No. 1, and the possibility of playing for the national championship at home?
"We don't talk about it," Hanson said with a chuckle. "For the most part, what I've seen is they haven't succumbed to the pressure. Just go and play. We learned about why we lost to Ball State (the Buckeyes last loss, all the way back on Feb. 6, 2016) and have tried not to have that happen again. They've been really good, and the bigger the moment, the better they play."
The Buckeyes have beaten Long Beach State (No. 2), UCLA (No. 4), Lewis (No. 6), Stanford (No. 8), Ball State (No. 11) and Penn State (No. 14) this season.
Hanson has not only watched volleyball grow and flourish in the Midwest during his 33 years as the Ohio State coach (a 645-333 record and four times National Coach of the Year), he's played a big role in the growth.
"It certainly has changed at the youth and club and high school levels," said Hanson, who played at Ball State. "I'm hesitant to say it's changed a great deal at the collegiate level, especially the Division I level. Where it's changed (in the college ranks) is the growth of the Division 2 and 3 teams."
In the "old days," California colleges, led by UCLA, dominated and won every national championship from 1970 to 1998. BYU broke through in 1999 and Ohio State finished second to UCLA in 2000.
"We finally broke through the glass ceiling in 2011," Hanson said. "And having Loyola follow that up (in 2014 and 2015, followed by Ohio State last year) really changed things. They could no longer say the sun rises and sets in California from a volleyball perspective."
We have some pretty nice volleyball sunrises and sunsets right here in Columbus these days.
The Ohio Valley Region of USA Volleyball is one of the largest in the nation, and Columbus, and the Greater Columbus Convention Center, have hosted thousands of youth volleyball matches. USA Volleyball's Boys' Junior National Championships were here in 2015. "We had a number of players and their families come here who had never been here before," Hanson said of the impact of the tournament. "I can't tell you how many people said to me, 'I didn't know Ohio State was so beautiful.' When you can get them here, on your campus, to soak up the atmosphere, that's big."
This will be the fifth time Ohio State has hosted the National Championship. The last time was 2007, and Ohio State didn't make the finals.
"We're lucky to have the great such great facilities here and such a great partner in the Greater Columbus Sports Commission," said Janine Oman, an Ohio State Associate Athletics Director and Chair of the Division I Men's Volleyball Committee. "There are places that do this well, and we have such a great staff that we rely on."