The coach of the defending state football champion Bishop Hartley Hawks has some advice for any and all coaches whose teams advance to the state championship games on December 1 – 3 at Ohio Stadium.
"Bring binoculars," joked Brad Burchfield, adding that if the Hawks reach the Ohio High School Athletic Association (OHSAA) Div. IV finals this year, the Hawks assistant coaches sitting way up in the press box atop the Shoe will be equipped with high-powered binoculars.
Bishop Hartley topped previously unbeaten Steubenville 31-28 in an exciting game that wasn't decided until a last-second, diving interception by Hawks linebacker Cody Kirkbride.
"The excitement is unparalleled," Burchfield said of playing in the state championship game. "And having it here, in the Shoe, added a whole new level of excitement. It meant so much for our school and community and alumni and players. There was such a tremendous buzz that has resonated ever since."
Tickets are on sale for the seven state championship games at historic Ohio Stadium. A total of 62,089 fans from all over Ohio – as well as college scouts from many of the top teams around the country – attended the 2015 games at the Shoe. This was the third-highest total in OHSAA history, said Tim Stried, spokesman for OHSAA.
Several local teams are in the playoffs – which start this weekend – and have a shot at making it to the state championship game. Bishop Hartley is once again ranked among the top Div. IV teams in Ohio.
The seven games will feature many of the top players from around Ohio, including scores of future college stars. And perhaps a few future NFL players.
"We were a little worried that playing in such a big venue, 100,000-plus seats, we'd get a little lost in there," Burchfield said of the 2015 game. "But it felt like a big-time event, like a big-time college game."
To help his players prepare for the Shoe, they arrived early.
"We got there at halftime of the game before our game and looked around," Burchfield said. "Because it's such a huge stadium, it was important for our players to get a grasp of it and I think that helped us."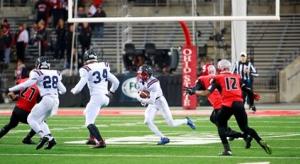 Former Buckeye great Chris "Beanie" Wells was one of the honorary captains for one of the 2015 championship games, along with several other Buckeye greats.
"It would have been amazing to play my final high school game here at the Shoe," said Wells, who played for Akron Garfield. "These kids will have memories that will last a lifetime and will one day tell their grandkids, 'I had the opportunity to play in the Horseshoe.'"
Ticket info: Fans can secure all-session tickets in prime locations in Ohio Stadium at http://go.osu.edu/OHSAAFBTix. All-session ticket books in the club level, which include chair-back seats on the west side of the stadium, are $105 each (good for all seven games) and also permit indoor access in the Huntington Club before, during and after each game. All-session reserved ticket books on the east side of the stadium, which don't include indoor access, are $84 each (good for all seven games).