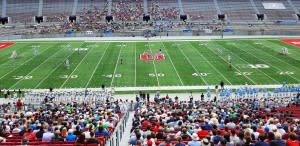 The members of Columbus Old Dogs Lacrosse gathered outside Ohio Stadium on Sunday, to tailgate and prepare for the start of the first of two NCAA Division I Men's Lacrosse Championship quarterfinal games.
Lacrosse in Central Ohio sure has come a long way since the members of this local 35-and-older lacrosse club were in high school.
"I played for Upper Arlington (in the late 1970s), and Thomas Worthington was the only other high school team around here that had a team," Linc Walquist said.
The teams had to travel to Pennsylvania and Michigan to find opponents.
Walquist went on to play at Ohio State and "the soccer coach had to coach us too," he said. "Now look at it, lacrosse is huge. Everyone loves it. It's got everything, speed, passing, the physical aspect, the team aspect."
There are now more than 100 boys and girls high school teams in Ohio, and the Ohio High School Athletic Association will begin holding state championships in the coming academic year. The Ohio State men's and women's programs have come a long way since Walquist was played in the early 1980s. The men advanced to the NCAA quarterfinals in 2013 and 2015. And, the locally-based Ohio Machine are one of the top teams in Major League Lacrosse.
"It's really exploded and continues to get bigger and bigger," said OSU men's coach Nick Myers, who attended the two quarterfinal games. In the first, North Carolina beat Notre Dame 13-9, and Loyola Maryland edged Towson 10-8 in the second quarterfinal match.
This was the first time Ohio State has hosted the quarterfinals of the NCAA tournament, another sign of the area's emergence as a lacrosse hub.
Brown nipped Navy 11-10 and Maryland beat Syracuse 13-7 on Saturday in Providence, Rhode Island in the other quarterfinal matchups. The semifinals and finals will be held May 28 and 30 in Philadelphia.
"The lacrosse landscape here has really changed with the influx of more and more folks who really know the game," said Myers, who grew up in Maine. "The game has grown almost faster than we can keep up with it, here and in Cleveland and in Cincinnati and Toledo. It's been really cool to see, and exciting."
The growth of youth leagues has been the key to the rapid expansion of lacrosse in Central Ohio. Maryland and New York are the two traditional hotbeds of youth and high school lacrosse, and players from these two states filled the rosters of Notre Dame, North Carolina, Towson and Loyola.
"We have a Young Bucks program for K to 6 and we do summer camps," Myers said. "We're getting kids engaged and excited and the future is bright. Our in-state talent probably isn't what it is in Maryland yet, but we're getting there."
Myers and the Buckeyes hoped to make it to the NCAA quarterfinals again this year and play at the Shoe.
Ohio State finished 7-8, but were oh-so-close to a winning record and return trip to the tournament. They lost several games to ranked opponents by one goal, including a 9-8 loss to Notre Dame and 10-9 overtime loss to Towson.
"We were five or six goals away from being a seeded team" in the NCAA tournament, Myers said. "But it's great for our fans and our sport to have the quarterfinals here and for people to see what a great venue Ohio Stadium is. Our goal is to break through and make it to the Final Four."
The Towson Alumni Relations office had a tent set up outside the Shoe, and more than 110 alumni were there, as well as lots of current students. City Barbeque catered the well-organized tailgate party.
The Towson Alumni tailgated next to the Old Dogs, who also know a thing or two about pre-game festivities. The parking lots around the Shoe were filled with tailgaters before the two games, as fans from each of the four teams figured out where to gather.
"They're so great," said Lori Armstrong, the Associate Vice President of Towson Alumni Relations. "The Old Dogs filled us in and are so helpful and fun."
Armstrong was also impressed by the Shoe, Columbus and Dublin, where she stayed on Saturday night.
"I Googled Dublin and found a hotel and it was beautiful," she said. "And I heard about the big Irish Festival (August 5-7) in Dublin and it sounds great. Maybe we'll come back for it."
This was Ray White's second trip from upstate New York to Columbus to watch his son, Tyler White (the Tigers goalie) play at the Shoe.
"I'm nervous," he said before the game. "I'm so anxious, but I believe in the boys."
Despite his nerves, he was able to appreciate the Shoe and Columbus.
"Columbus is a beautiful area," he said. "There's so much going on and so many things to do."
Notes
North Carolina coach Joe Breschi was the Ohio State coach (1998-2008) before leaving to coach his alma mater. He was succeeded by Myers.
Anthony Gilardi, Towson's associate head coach, played for the Buckeyes (2001-2004) and also spent time as an assistant coach at Ohio State.