June marked an exciting milestone for the Greater Columbus Sports Commission (Sports Commission) - we turned 15 years old! On June 27, 2002 the Sports Commission was officially created by Executive Director Linda Shetina Logan.
Fast-forward 15 years later, and you'll find that few people have been around longer or made more of an impact on the Sports Commission than Brian Timm, Director of Corporate Partnerships. Read more about a true veteran of the sports industry and what he loves most about his profession and Columbus!
Sports Commission: Talk a little about your background—where did you grow up and go to college? What were your interests? 
Brian Timm: I was born in Cincinnati and moved to Troy, Ohio when I was in kindergarten.I graduated from Troy High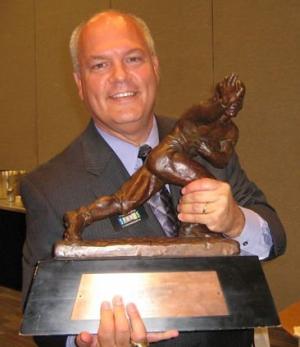 School in 1979 went to Wittenberg University in Springfield. I began playing football in the 4th grade and played my freshman season at Wittenberg, where we were the top-ranked team in the country all year until we lost the national championship game.
My final three years at Wittenberg I served as a student manager for the football team. My senior year I was also student manager for the basketball team and we went to the Final Four and lost the championship game by one point. After Wittenberg I went to Ohio University where I earned my Master's Degree in Sports Administration.
Sports Commission: Tell us about your career prior to the Sports Commission—where did you work? Were you always in Ohio or working in sports?

BT: No, it took some time before I ended up permanently in Columbus. I spent seven years in sales with the Pittsburgh Pirates before coming to Columbus in 1991 to work on the AmeriFlora project, an international horticultural exhibition held from April to October in 1992 at Franklin Park.

From there I moved to Cincinnati and was sales manager at Select-A-Seat, a competitor to Ticketmaster. I moved back to Columbus in the summer of 1993 to get married and in December of that year I began a 10 year career at WBNS Radio. The last seven of those 10 was as sales manager for the Ohio State Radio Network, selling football and basketball sponsorships on our state-wide radio network. In 2003 I went to work for the Ohio State Coaches Television Shows selling and helping to produce the Jim Tressel Show, Jim O'Brien Show, Thad Matta Show and the Jim Foster Show.  Finally, in January of 2007 I joined the Sports Commission.
Sports Commission: That's quite a career! So how did you find your way to the Sports Commission?
I called (Sports Commission Executive Director) Linda Logan to do some networking - we both are alumni of the Ohio University Sports Administration program - and learned that the Sports Commission wanted to aggressively increase its funding.I was brought on to create a corporate partnership program and raise operating funds. I'm still in the same role today, meeting business leaders, telling our story and asking for their support.
Sports Commission: You've been with the Sports Commission a long time! Is there anything exciting coming up soon?
BT: On June 27, the Sports Commission celebrated its 15th Anniversary, which is a huge milestone. We are looking forward to celebrating this accomplishment with the local community at the end of the summer. Of course, we are also working every day on the 2018 NCAA Women's Final Four, and tickets are already on sale!
Sports Commission: What makes you so excited about the 15th Anniversary?
Personally,  I'm very excited to use the Sports Commission's 15th anniversary as a way to celebrate all that Columbus has achieved in the last 15 years. The city is a much different place than it was in 2002 and we are all working together to make it one of the world's top sports destinations.
Sports Commission: What are some of the biggest changes you've seen since you've started with the Sports Commission 10 years ago?
BT: The Sports Commission staff has grown from a fulltime staff of four to 13, allowing all of us to concentrate on what we do best. The city itself has grown dramatically with new sports teams, new venues, new hotels and new restaurants. It seems like something new pops up all the time.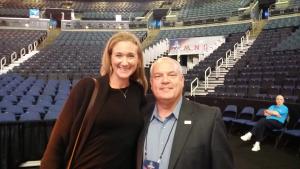 Sports Commission: What is your favorite part of working with the Sports Commission team?
BT: The biggest satisfaction that I receive is knowing that our work benefits so many people and businesses across the region. We are truly working for the betterment of our community.
Sports Commission: As someone who has been around sports for so long, do you have a favorite sport?
BT: College football is my all-time favorite sport to watch, and I can watch any level and any team—it's always interesting to me! College basketball runs a close second.
Sports Commission: What are some of your favorite hot spots in Columbus?
BT: My favorite spot in all of Columbus is the historic Ohio Stadium.  Whether it is empty or full, I love being there walking around and thinking about the history of the place.  My favorite restaurant is Giuseppe's in Bexley. I also love Hyde Park and City Barbecue.
Sports Commission: Finally - what is a fun fact about you that people might not know?
BT: The roommate that I was assigned my freshman year of college actually lived in the same house that my dad grew up in. What are the odds?
Every month the Columbus Sports Scene Blog will feature a staff member of the Greater Columbus Sports Commission in our "Meet the Sports Commission" segment.