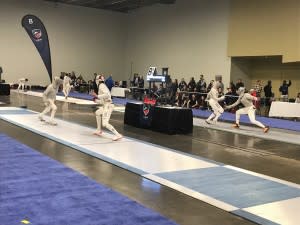 Donald Anthony was hooked on fencing when he first learned to lunge, parry and riposte at the age of 8 in his hometown of Cleveland.
"I love the opportunity to constantly learn and perfect your technique," said Anthony, 59, who helped lead the resurgence of American fencing, first as a competitor, and in recent years as president and chairman of the board of USA Fencing.
Anthony – who is still a top age-group fencer – had the opportunity to learn a little more the past few days, as he was one of the 1,500 fencers competing in the saber, epee and foil events at USA Fencing's January North American Cup at the Greater Columbus Convention Center. The event attracted the top fencers from all over the United States and beyond, including several Olympians.
The action was fast and furious and the convention center was filled with the sounds of clanking swords, squeaking fencing sneakers and the primal screams of the competitors.
Columbus has become a fencing hub in recent years and the leadership and enthusiasm of Anthony and Ohio State coach Vladimir Nazlymov have led the way.
"I definitely think this is one of the best fencing areas in the country," said Celina Merza, who came from New Jersey to fence for Nazlymov at Ohio State. The 2016 graduate is now a volunteer assistant coach at Ohio State, and she finished 6th in the Div. I Women' Saber competition at the North American Cup.
New York and New Jersey are the traditional centers of fencing prowess in this country, with an abundance of the top club and college teams and coaches. "Vladimir Nazlymov is the one person here (in Columbus) who equals all the clubs and college teams and coaches there," Merza said. "He changed my vision."
Nazlymov came to Ohio State in 1999 and quickly turned the Buckeyes into a fencing power. His teams have won three NCAA team titles and finished second in 2016.
"We have created a community for fencers here," Nazlymov said, giving Anthony credit for building USA Fencing. "This is still a young sport in this country and for 100 years (the United States) did not win many medals. Now, in every competition we are fighting for a medal and (the fencers) who win silver and bronze are not satisfied and want gold."
Nazlymov knows a thing or two about Olympic medals. He won three gold medals, and six medals total while competing for Russia in the team and individual saber events. About 30 of his current Buckeyes competed in the USA Fencing event, and many former Buckeye fencers were in Columbus to compete or coach.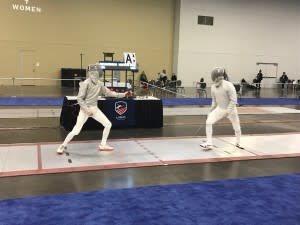 Such as Terrence Lasker, the coach of Nellya Fencers Club in Atlanta. Lasker grew up in Kansas City, where Nazlymov started a youth and high school program in the early 1990s.
"What was his impact on me?" Lasker said. "Wow, I could write a book. He is like a second father to me."
Lasker became a world-class fencer and won a bronze medal at the 1994 Cadet World Championships, which was a huge step forward for fencing in this country. He followed Nazlymov to Ohio State and was an assistant coach for several years before leaving to coach Nellya Fencers.
Two of the Nellya Fencers – Edith Johnson (3rd) and Lark Izenson (11th) – made it to the quarterfinals of the Div. I Women' Saber competition. Zara Moss won the competition, which featured several world-class fencers and a lot of exciting matches – and screams.
"They can be an emotional outlet," Merza said of the primal exclamations, adding there is also a bit of strategy involved. "(The screams) also put pressure on the referees, it's sort of a give the point to me thing."
Sarah Merza, Celina's younger sister and a Buckeye freshman, was 17th in the Div. I Women's Saber Final.
"I want to be a good role model for her," Celina Merza said, adding she's passing on some of what Nazlymov taught her to her sister. "Like how to control your emotions out there."
Ah, emotions: The key to fencing.
"When you get to the highest levels of fencing, the skills set and athleticism is all similar," Anthony said. "The difference is how you mentally perform, how you let your skills come out. I like to say you need to learn how to get out of your own way."
Anthony had an unexpected chance to perform at the North American Cup, which is a major tournament in qualification for Senior World Championships in July as well as Junior and Cadet World Championships in April. This was the first time it has been held in Columbus.
"I got a call at 7 this morning, they said I had to compete, they were short a man," Anthony said.
And so, he did, in the Senior Team Men's Saber with the Columbus Fencing & Fitness Buckeyes. They finished 6th, while the Columbus Silver Jackets were 4th. The Silver Jackets team included Mikhail Mironovas who, of course, has a connection to Anthony and Nazlymov.
Mironovas, 49, learn to fence growing up in Lithuania and was a member of the country's national team. He and Anthony often train together, sometimes with the Buckeyes, and both get a little coaching advice from Nazlymov.
"There are a lot of good fencers here today that (Nazlymov) coached at some point," Mironovas said. "And many of the coaches are his former fencers."
"His stature in the fencing world is big," Anthony said, adding that because so many fencers have come to Columbus to train under Nazlymov "we do have a large number of high-quality fencers here now."
Anthony has also helped change the fencing landscape here, at the club level and at the national level. He was instrumental in bringing the 2013 and 2014 USA Fencing National Championships to the city.
"That first year, people were saying, 'Why Columbus?'" he said. "By the end, they were saying, "When can we come back?'"
Hopefully soon.