Dear Columbus,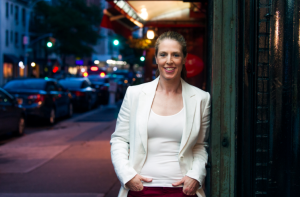 My name is Katie Smith and I want to share my feelings about two of my greatest loves: basketball and Columbus.
Growing up in Southeastern Ohio, my parents provided my family and me with many opportunities: choir, dance, 4-H and sports. We had to travel for many of these activities so we would jump in the family van, travel throughout the state and always end up with a stop in Columbus for some great dining or a special event. A lot of my dreams became reality in Columbus: state track meets, a sold-out St. John Arena for my senior year State Championship Basketball game, my college recruitment and playing basketball at The Ohio State University and playing professional basketball locally for the Columbus Quest.
As you can see, basketball became a huge part of my life that led to unbelievable experiences, including playing professional basketball for 17 years and winning three Olympic Gold Medals.
Next year, Columbus will host the 2018 Women's Final Four, where young women will reach their goals and compete to win a National Championship. Recently, Columbus hosted a similar event in the 2017 NCAA DII Women's Basketball Championship at Ohio Dominican University, where Ashland University was the victor and played in front of sellout crowds every night. These marquee events give our community (especially young ladies!) exposure to elite athletes and an electric championship environment. Along with the semifinal and final games, our city will have a chance to showcase our many retail areas, dining and our fabulous hospitality.
Columbus certainly fits the definition of community by creating a feeling of fellowship with others along with sharing common attitudes and goals. We as a community tend to bleed scarlet and gray (who can blame us?), but overall we want a city that we're proud of, regardless of school allegiance. The teamwork that occurs between different organizations, businesses, local colleges and universities, the Greater Columbus Sports Commission and Experience Columbus is unbelievable. Everyone has the same goal: to continue to cultivate a vibrant city and offer wonderful events here in our own backyard.
For me, I realize that the successes I have had are not just my own. So many people in Columbus have had a hand in my journey, and I hope that many individuals have lived vicariously through my basketball adventures. It was one of the main reasons I wanted to become a Buckeye—I wanted to share it with everyone. Since college I have called Columbus home and the sense of community is what really resonates with me.
Let's showcase our city next year with the 2018 Women's Final Four! I have had so many people ask me already where they can go and sign up to volunteer and that really sums up Columbus…We are always all in!
Katie Smith
Associate Head Coach, New York Liberty