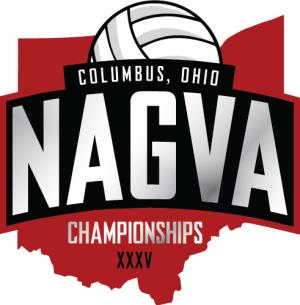 The North American Gay Volleyball Association (NAGVA) Championships will be held at the SMG-managed Greater Columbus Convention Center on May 26-29, 2017. The event is expected to bring in approximately 150 teams and over 1,000 players, coaches and fans to Columbus. Teams from the United States, Canada and Puerto Rico will travel to the city to compete in the tournament, which will celebrate its 35th anniversary in 2017. SVEDKA Vodka, Axis Nightclub and Union Café will sponsor the event.
"NAGVA is very excited to return to the Midwest and to Columbus," says Jason Fallon, President of NAGVA. "Columbus has been a hot bed of volleyball for a number of years and seemed to be a perfect fit to host our annual Championships in 2017. With the close proximity of the hotel, playing facility, restaurants and a number of great LGBTQ establishments, the 35th anniversary of NAGVA Championships should be a memorable experience for all participants."
Pool play will begin on Friday, May 26 and continue to Saturday, with Saturday night and Sunday consisting of double-elimination tournament play. Other events including an annual meeting, banquet and a Closing Party will also be held during the weekend.
"We are thrilled to have the NAGVA Championships at the Greater Columbus Convention Center in 2017," said Greater Columbus Sports Commission Executive Director Linda Shetina Logan. "As a city that was recently named a national leader for LGBTQ equality, we are excited to host this tournament and continue our long-standing commitment to bringing diverse and inclusive sporting events to Columbus."
"We are excited to add this new championship with NAGVA to our legacy of hosting more than two decades of volleyball tournaments at all levels," said Greater Columbus Convention Center General Manager John R. Page.  "When the tournament attendees arrive in 2017, our facility will be in the final stages of transformation with an expansion, full renovation and new amenities awaiting our guests."
The NAGVA Championships join the annual NAGVA Labor of Love Volleyball classic, the 2015 North American Gay Amateur Athletic Alliance (NAGAAA) Gay Softball World Series and the annual Gay and Lesbian Tennis Alliance (GLTA) Columbus Classic as other notable LGBTQ sporting events hosted in Columbus.
About NAGVA
The North American Gay Volleyball Association is a non-profit 501(c)(7) organization, committed to promoting and developing the sport of volleyball in the LGBTQ community. The organization's over 4,000 members are diverse and non-exclusionary through the United States, Canada and Puerto Rico.