Browns to host 2016 Orange & Brown Scrimmage in Columbus Training camp event returns to Ohio Stadium on August 6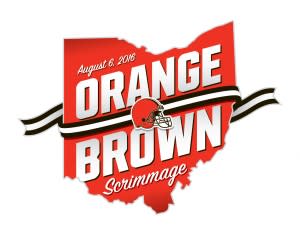 The Cleveland Browns will host the team's 2016 "Orange & Brown Scrimmage" at Ohio Stadium in Columbus on Saturday, August 6 from 3:00-5:30 p.m. The late afternoon on-field session at The Horseshoe will be free to all fans.
It is the third time in as many years that the team's highest-attended training camp event has extended outside of Cleveland, allowing fans from across the state to experience live Browns competition. Last year's inaugural Orange & Brown Scrimmage in Columbus attracted 49,734 fans to The Horseshoe, the highest of any Browns scrimmage or Family Day since totals were first kept in 2005.
"Last week, we concluded what I thought was a productive offseason program for our team," said Head Coach Hue Jackson. "I appreciated our players' hard work and effort as they worked tirelessly on improving in every area and at learning our process of what it will take to be successful in this league. We have more work ahead as we strive to accomplish our goals. We are excited about the opportunity to build on that foundation with our fans during training camp as we continue to prepare for the upcoming season."
The team's on-field session will begin at 3 p.m., but the day's activities begin prior to the scrimmage at noon featuring many exciting pregame opportunities for all fans to enjoy at St. John Arena. The Browns once again will bring Dawg Pound Drive, an engaging space launched in 2014 that offers fans an interactive pregame space for Browns alumni autographs, a meet and greet with mascot Swagger, a live music stage, food and beverage specials and other entertaining elements.
"We look forward to the Browns returning to Columbus for this year's edition of the Orange & Brown Scrimmage," said Xen Riggs, Ohio State University Associate Vice President for Student Life. "Columbus continues to grow as a major sports town each year and it is exciting to host a professional football organization as they prepare for the upcoming season. It is an outstanding opportunity for both the city and its football fans."
"Our community is thrilled to have the opportunity to host the Cleveland Browns in Columbus for the second consecutive year," said Greater Columbus Sports Commission Executive Director Linda Logan. "Browns and Buckeye fans will be even more energized with the opportunity to once again experience professional football up close in Ohio Stadium, one of our country's most iconic stadiums."
Free registration for the Cleveland Browns 2016 Orange & Brown Scrimmage opens to the team's season ticket members exclusively on June 21 and to all fans on June 23 through www.ClevelandBrowns.com and the Browns Mobile App.
The 2016 Cleveland Browns Orange & Brown Scrimmage is presented by TourismOhio and in association with Giant Eagle. Fans may call the Browns ticket office for more information at 440-824-3434.
MEDIA CONTACTS:
Rob McBurnett | Cleveland Browns | rmcburnett@clevelandbrowns.com | 440-824-6175
Leann Parker | Ohio State Athletics | parker.387@osu.edu | 614-688-0294
Bruce Wimbish | Greater Columbus Sports Commission | bwimbish@columbussports.org | 614-221-6178