First-Time Event Featuring Top Intercollegiate ACHA Hockey Teams from Across the Country
Will Compete at OhioHealth Chillers and the OhioHealth Ice Haus at Nationwide Arena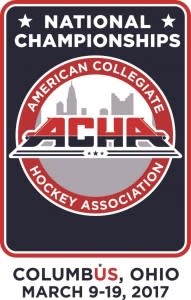 The American Collegiate Hockey Association (ACHA), a member of USA Hockey and an organization of over 430 college and university affiliated hockey programs, will make history when all five of their divisions, Men's Divisions 1, 2 and 3 and Women's Divisions 1 and 2, will host their national championships together in Columbus in 2017 and 2018, it was announced at the ACHA Convention in Naples, FL.
The ACHA national championships, featuring more than 80 teams and 1,600 players competing in over 100 games, will be hosted March 9-19, 2017 in Columbus at the OhioHealth Chiller Ice Rinks (Dublin, Easton, North) and the OhioHealth Ice Haus at Nationwide Arena. The event is expected to generate an estimated 3,000 hotel room nights. Dates for 2018 are yet to be scheduled.
"Our organization is proud to have celebrated our 25th Anniversary in 2016 and will take the next step of uniting all five of our divisions' national championships in one location in 2017," said ACHA Executive Director Michael Walley. "Columbus is a rising hockey destination, centrally located to our membership, with so much to offer our players, coaches, and fans. We look forward to hosing this historic event in Columbus and I want to thank the Sports Commission and the Blue Jackets for their support."
"Columbus is thrilled to have this historic opportunity to host the championships for the entire ACHA family," said Greater Columbus Sports Commission Executive Director Linda Shetina Logan. "Along with our partners, the Columbus Blue Jackets and OhioHealth Chillers, we look forward to providing a first-class experience for the teams and fans visiting our great city."
"The OhioHealth Chiller Ice Rinks are very excited to partner with the ACHA and the Greater Columbus Sports Commission on hosting the 2017 Nationals," said Jeremy Rogers, Assistant General Manager of the OhioHealth Chiller Ice Rinks. "This will be a marquee event for our sport, our city, and these student-athletes, and we welcome the opportunity to highlight the quality and growth of college club hockey."
"The opportunity to host this national championship is just the latest example of Columbus' reputation as a maturing hockey market and appealing event destination," said J.D. Kershaw, Columbus Blue Jackets Vice President of Marketing.  "The Chillers' numerous and well-equipped facilities offer the perfect setup for the ACHA to stage all five championships together for the first time."
The American Collegiate Hockey Association
Now celebrating its 26th season of existence, the American Collegiate Hockey Association (ACHA) is an organization of over 475 college and university affiliated hockey programs, which provides structure, regulates operations and promotes the quality of collegiate ice hockey. The ACHA's primary mission is to support the growth and development of collegiate hockey programs nationwide. The ACHA identifies standards which serve to unite and regulate teams at the collegiate level. For more information on ACHA, visit www.achahockey.org.