Relationship with USA Fencing Grows with New Event at Greater Columbus Convention Center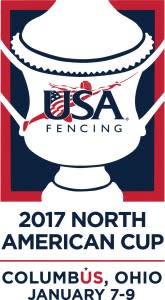 USA Fencing announced that Columbus will host a North American Cup from January 6-9, 2017 at the Greater Columbus Convention Center.
The January North American Cup, one of a series of eight events held by USA Fencing throughout the nation, will feature athletes in Division I, Wheelchair, Junior and Senior Team events in each of the three fencing disciplines – epee, foil and saber.
While both the 2013 and 2014 USA Fencing National Championships were held in Columbus, this marks the first time this specific event has come to Ohio's capital.
More than 1,500 athletes, including members of the 2016 U.S. Olympic team, are expected to compete in the tournament that is a key qualifier for the 2017 Junior and Cadet World Championships which will be held in April in Bulgaria as well as the 2017 Senior World Championships which will take place in July in Germany.  Top fencers from throughout the United States will be joined by athletes from North and South America, Europe and Asia as they fence for gold in Columbus.
In addition to Columbus being the host of the USA Fencing Nationals in 2013 and 2014, Ohio State University has been the site of the NCAA Fencing Championships four times in the last six years (2015, 2014, 2012, 2011).
"USA Fencing is pleased to be returning to Columbus, OH for the 2017 January North American Cup," said USA Fencing Director of Operations Christine Strong-Simmons. The Greater Columbus Sports Commission is a long-time partner to USA Fencing and one of the best Sports Commissions in the United States."
"Columbus is excited to broaden our relationship with USA Fencing," said Greater Columbus Sports Commission Executive Director Linda Logan. "The sports' popularity was on display this past summer in Rio and we look forward to rolling out the red carper for the North American Cup, much like we did for the Summer Nationals in 2013 and 2014."
"We welcome the opportunity to host the North American Cup in January 2017," said John Page, general manager of the SMG-managed Greater Columbus Convention Center.  "We are proud to have become known to the fencing community as a destination for successfully executing fencing events over the past 14 years and we look forward to hosting this new event."
USA Fencing is the recognized National Governing Body for the sport of fencing in the United States. The organization's mission is to serve and foster the growth, participation and development of domestic fencing at all levels and to achieve sustained international success. USA Fencing is affiliated with the Féderation Internationale d'Escrime (FIE), the international federation for fencing. A 501-c-3 non-profit organization, USA Fencing is based out of Colorado Springs, Colo. and has a membership of more than 30,000 individuals, including grassroots, elite and veteran fencers.
The Greater Columbus Sports Commission has been a catalyst in transforming Columbus into one of the world's best sports destinations since 2002. Our mission is to rally Columbus to compete and win sporting events, providing a singular athlete and fan experience and positively impacting our image, economy and lifestyle. The Sports Commission provides the experience and expertise from hosting more than 380 new sporting events that have generated over $400 million in visitor spending, while retaining annual events that have generated an additional $250 million. For more information, visit columbussports.org.