Participants laced up their running shoes for a 5K at home rather than on the track. Teams got competition ready with just their own co-workers rather than of a collection of Central Ohio organizations. Our Tailgate Zone celebrations were swapped with social media posts to show team spirit. 
But despite the changes to the 2020 Community Cup, presented by The Columbus Foundation, the third year of the corporate challenge certainly brought the same level of teamwork and competitive spirit as previous years. Held Aug. 1-5 at Fortress Obetz, The Community Cup brought camaraderie to the community in a time when it was needed most.
The 2020 event prioritized participant safety. By taking two of the 11 events virtual, allowing teams to compete in-person during individual appointments and continuing the Charity Challenge, organizations were able to compete in while staying safe. The Community Cup is about team building, wellness and collaboration, and that was certainly on display with our new Community Cup champions!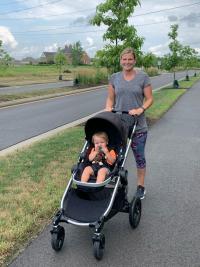 We believe that team building also includes giving back to the community in which you live, work and play. That's why the Charity Challenge was more important than ever this year. Teams had the opportunity to donate to The Columbus Foundation or the Mid-Ohio Food Collective in the month leading up to The Community Cup. Nationwide earned the title of Most Charitable after leaning all the way into the Charity Challenge, donating a total of $450 to these organizations.
Team Nationwide didn't stop there. The 5K Race, presented by Fortress Obetz, was held virtually this year to allow participants to compete safely while social distancing. Team Nationwide, a multi-year winner of the running event, had employees place first in six different age divisions. Nationwide is the 2020 Run Away With the Gold winner for their dominance in the 5K race.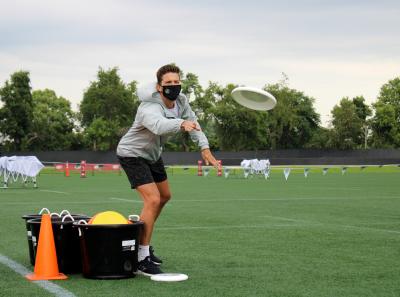 But there's only one team that excelled across the board, from in-person events to virtual participation, and came away with the Cup. Columbus Crew SC is the 2020 Community Cup overall champion after showing up to the competition ready to win! The team tallied major points in events like lacrosse passing, golf chipping and soccer kick – as expected. At the Closing Ceremonies, team President and General Manager Tim Bezbatchenko explained how the team came close to winning in 2019 and trained all year to take the title in 2020. Here's hoping that same competitive drive leads the Crew to winning another major Cup win in the coming months!
While the competition this year felt different than normal, Columbus teams showed what it truly means to be resilient, spirited and collaborative. We already can't wait to see our teams and sponsors return for the 2021 Community Cup! You can learn more about the event at columbuscommunitycup.com.