When you purchase a specialty license plate for the Columbus Blue Jackets or Columbus Crew SC, part of your payment benefits the Greater Columbus Sports Commission and each team's official charity. 
Your contribution shows team pride while helping Columbus bring premier sports events into our city. That's a win-win.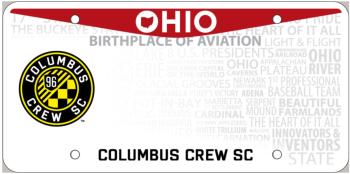 How Does it Work? 
As the acting sports commission in Franklin County, the Greater Columbus Sports Commission is permitted to receive a percentage of the revenue generated from the sale of Blue Jackets and Crew SC specialty plates, per state legislation.  
This revenue goes directly toward our mission of rallying Columbus to compete and win sporting events, positively impacting image, economy and lifestyle in the city. The Sports Commission is a nonprofit, and your support through the $35 annual base fee helps ensure Columbus remains a top sports destination.  
Any Ohio motorist can purchase Columbus sports plates through the Ohio Bureau of Motor Vehicles. Click here to purchase your plates and show team spirit everywhere you go.