With fall looming, a three-day weekend ahead and outside adventures aplenty, this Labor Day weekend is the perfect time to get outside and safely explore some of the best outdoor activities in Columbus!
Columbus is a vibrant city that's passionate about sports, fitness and wellness. While we may not be hosting large gatherings with family this weekend like usual, the parks, trails and vast outdoor spaces in the city provide the perfect setting to enjoy Labor Day safely.
Here are our picks for the best ways to experience the city this Labor Day Weekend:
---
Talk a Walk Downtown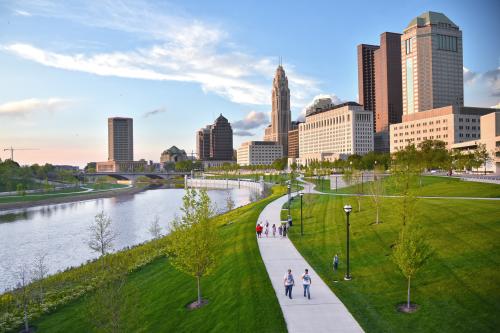 There's nothing like a stroll down the Scioto Mile on a sunny Columbus day! This downtown stretch is comprised of more than 175 acres of park space along the Scioto River and was recently cited as one of the reasons Columbus is a top 20 city in the U.S. for runners. With easy access to downtown and Scioto Audubon Metro Park, this downtown space is the perfect walking route to enjoy with friends or family this Labor Day.
Picnic With the Family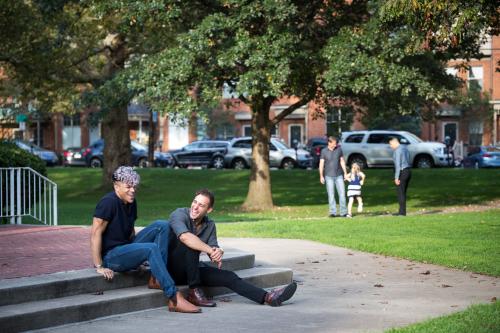 If you are planning to meet up with a few family members or friends this weekend, an outdoor picnic is the perfect way to bid farewell to summer in a socially distanced way. From quiet Topiary Park to more urban oases, check out these scenic picnic spots around the city from Experience Columbus.
Get Out on the Water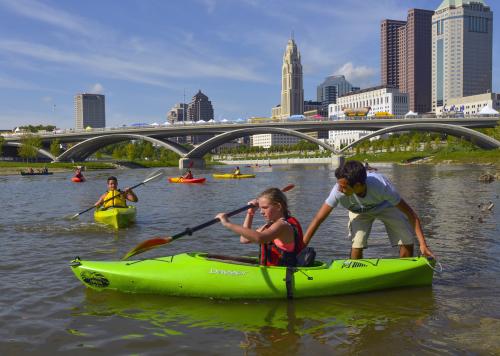 Nothing feels more natural on Labor Day than spending time on the water. Kayaking and paddle boarding are common all around the city, but especially at scenic parks like Big Darby Creek or Alum Creek. Plenty of these waterways offer day rentals for equipment such as kayaks, canoes, paddle boards or pedal boats. If you have your own equipment, you can check conditions of local rivers at OlentangyPaddle.com. For a full list of these kayaking and canoeing locations, click here.
Get Active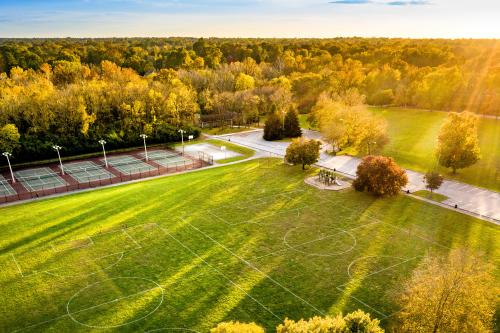 Wanting to break a sweat while you enjoy your time off? No problem. From sports courts to bike trails, Columbus has it all. Whether you've got your own two wheels or need to rent from a CoGo Bike Share station, Columbus is a bike-friendly city with a range of trails and paths. If you prefer an afternoon on your own two feet, some of the city's best views can be found on a hike. And lastly, if you're just looking for a quick game, check out the multi-purpose fields, basketball courts and tennis courts at Antrim Park or the 18-hole disc golf course at Griggs Reservoir – just remember to bring your own equipment along with your competitive spirit.
Support the Community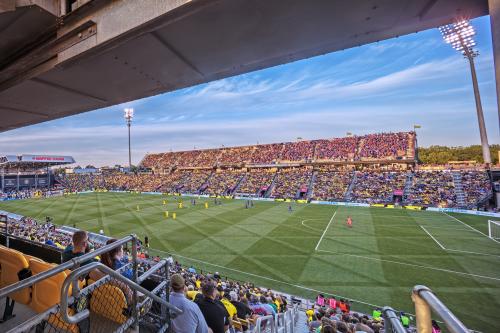 We often say that Columbus has no offseason, and in today's world, that extends beyond just sports! There are plenty of ways to support local teams, community organizations and initiatives this weekend. Columbus Crew SC is back in action, taking on rival FC Cincinnati on Sunday at 7:30 p.m. For the first time since March, a limited number of fans will be allowed at MAPFRE Stadium for the game with safety protocols in place. If you'd rather watch from a distance, check out the official drive-in watch party at Polaris Fashion Place, starting at 6 p.m. on game day.
---
If you're tuning in to the most exciting 20 seconds in sports this weekend, the Greater Columbus Convention Center is providing the Derby Dining Box, offering all you need to have your own Kentucky Derby celebration at home while benefitting the Ohio Restaurant Employee Relief Fund. Pre-orders have closed, but you can check out details of the Derby Dining Box here. You can find more local activities to headline your Labor Day weekend here.
The way we gather and celebrate continues to change this year, but there are plenty of ways to adapt and safely enjoy the Labor Day holiday in the city!