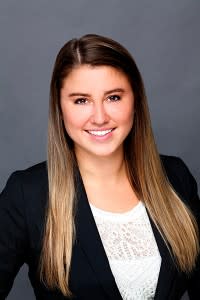 We like to think every day is an exciting day to be in Columbus, but last Tuesday proved that to be true. If you haven't heard by now, the NCAA awarded Columbus 12 Championship events between 2019-2022, the second-highest total in the country. Now that we've finished our just-made-the-winning shot moves, we're often asked what happens behind the scenes to land these events. Well, get comfy, because we're going to take you through the bid process.
The process to bid on the events spanned almost an entire year, with all bids due in August 2016. The Greater Columbus Sports Commission collaborated with host institutions, hotels and facilities to complete each bid.
Michelle Mercer, Business Development Coordinator, was part of the process and was kind enough to sit down and give us the details. From the conception of each bid to putting on the final touches, Michelle was the Sports Commission's go-to woman. So, in honor of our first Meet the Sports Commission, we're talking all things bids with her.
***
Sports Commission: What made you want to work in the sport industry, and what was your path to get here?
Michelle Mercer: I majored in hospitality at Ohio State and was working at the Blackwell at the front desk. I received a lot of experience and enjoyed working in hospitality. Once I graduated and started looking for jobs, I noticed the Sports Commission. I had never worked in sports business before–and to be honest, I didn't even know [the Sports Commission] existed! However, I love how the Sports Commission blends both the sports industry and the hospitality industry.
Sports Commission: Can you explain in a little more detail what you do as the Business Development Coordinator?
MM: I work closely with Jeremy (Business Development Director) and Lauren (Business Development Manager). The Business Development team works to bid on sporting events for Columbus, which in turn brings a positive economic impact and image to the city. Our main goal as a Sports Commission is to transform Columbus into one of the worlds' best sports destinations, and the only way we can do that is if we keep bringing great events here.
Sports Commission: Speaking of bids and great events, we just found out that we won 12 NCAA Bids between the years 2019-2022. Can you tell us about the bidding process?
MM: We started talking about the bids at the end of 2015. We knew the NCAA Bid Portal was about to open up, so we started discussing what events we wanted to bid on. We then met with other host institutions, including but not limited to Ohio State University, Ohio Dominican University and Capital University, who helped us choose which events we wanted to bid on.
We also had to reach out to all the hotels to make sure the dates for the championships worked. It's really a collaborative effort.
Sports Commission: So there is a fair amount of strategy involved.
MM:  Yes! There's a lot of strategy to make sure we don't pick dates where there's a massive, city-wide event and we don't have the right amount of room nights to ensure the event experience is the best it can be. We then incorporated the different arenas and facilities that were needed, like Nationwide Arena and the Greater Columbus Convention Center. We had to work with them to make sure they had availability too!
Once we get a clear idea of which 47 championships we wanted to bid on, we looked back to the last bidding cycle in 2013, which was before my time, and looked at how that bidding process went so we could pick up some pointers.to see if there were areas of improvement.
Then we went about compiling letters of support, imagery, information about our destination, and the history of the specific championship sport in Columbus. Once we had all of that, we complied the bids.
Sports Commission:  What I'm hearing is there is more to the process than meets the eye?
MM: Absolutely. [The bid process] has to coordinate with the city, the hotels, the schools, the venues, everything. It was good to know that all of our hard work as a team was worth it.
Sports Commission: What bid were you most excited to see come to Columbus?
MM: I've got a couple—I'm really excited about getting the NCAA Division I Women's Volleyball Championship back in Columbus. It was here in 2016 and the city rallied around it! I'm excited to see that happen again. It was also great to get the NCAA Division I Men's Basketball First/Second Rounds again, which always brings a lot of excitement and attention to the city.
Sports Commission: We've heard about how you impact the Sports Commission and the events we host. But switching gears—do you have a specific place in Columbus where you love to go? I know you're a big foodie, so any favorite restaurants?
MM: There's just so many! I love anything that has a good outdoor patio in the summer. Probably one of my favorite restaurants would be Forno. I'm obsessed with their pizza, I can't get enough of it! They have a really good brunch too.
Sports Commission: What about your favorite sport? Has any sport you competed in growing up tied into your work environment at all?
MM: I grew up doing gymnastics, and I competed and coached for many years. We've had different gymnastics events come to Columbus, like USA Gymnastics and NCAA Gymnastics, and I want to see more of that here!
My brother grew up playing hockey so that's a big thing for me too—the American Collegiate Hockey Association (ACHA) National Championships were just here in March, which was exciting, and I'm a huge Columbus Blue Jackets fan.  I love to watch some good hockey.
Sports Commission:  Finally——what is a fun fact about you?
MM: A fun fact about me—I always think of random things—I had a goldfish from the fair who lived for seven years.
***
Every month the Columbus Sports Scene Blog will feature a staff member of the Greater Columbus Sports Commission in our "Meet the Sports Commission" segment. Want to learn more? Head over to http://www.columbussports.org/about-gcsc/staff/